Stash busting again.
I've had this bunny fabric since two Easters ago. I had to get it used up before it got too young for Hannah. I wasn't up to making dresses in the two days I had, but I told them I'd make them Easter shirts. That they couldn't wear because of the @*#&$#@ weather.
(For example, this was Gray going out to milk with me this morning. He was not overdressed in the slightest.)
But back to happier thoughts - the Easter shirts. One for each girl.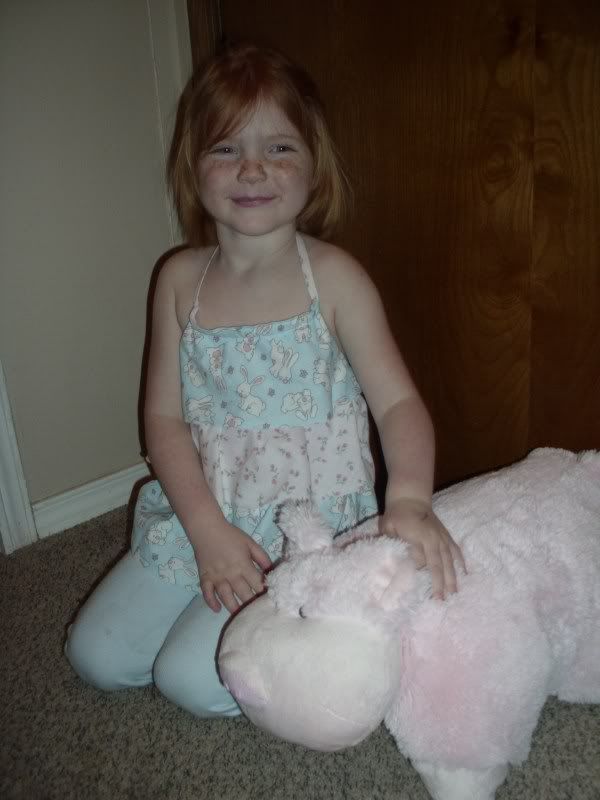 Gray didn't get one because I haven't figured out buttonholes yet. It's on my list of stuff to learn this year. That, and how to install zippers without swearing.
For Hannah's shirt, I used
McCall's 5797
. I didn't have enough of the fabric to make it into a dress, though that would have been easy enough - it's just a longer cut than the shirt with this pattern. The pattern itself is beyond easy - a similar (nearly identical) front and back, a tie. Sew the sides, hem the bottom, finish the armholes, make a tie casing, make the tie, you're done.
As I said, I was worried about the yellow bunny fabric being too 'young' for her, so I tried to age it a bit with some gorgeous, but never used, green fabric in my stash. I used the green fabric for the tie at the top.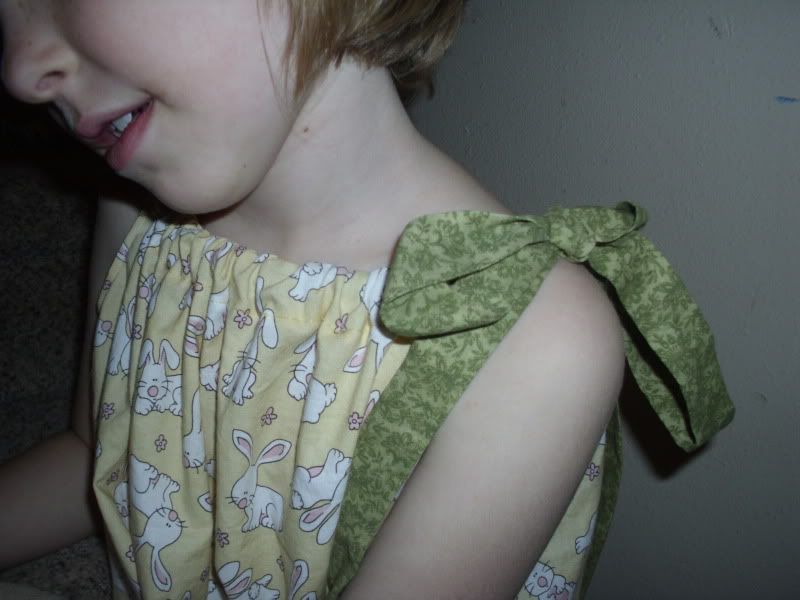 It's a really big bow. She's undecided on whether or not to make that smaller.
I made bias tape from the green and added a strip around the bottom - aged the outfit and didn't have to hem. Woo hoo!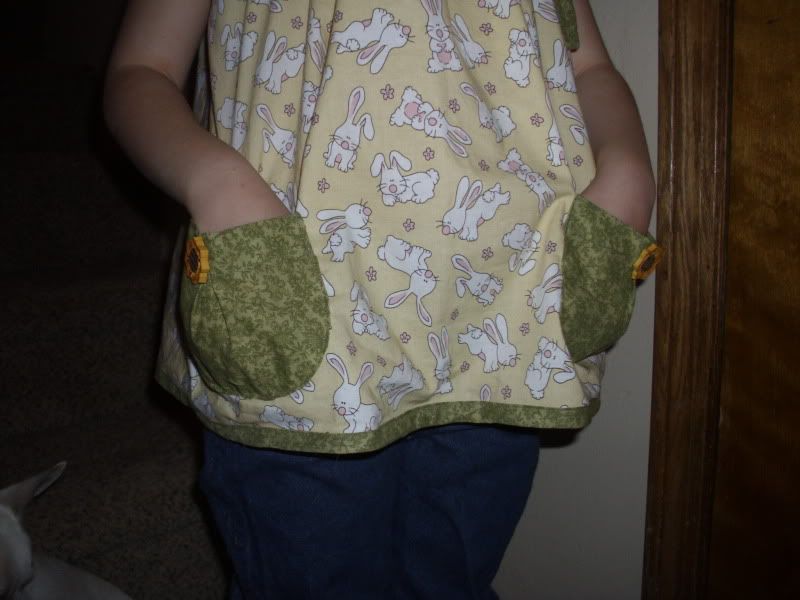 We also added pockets. We didn't use their pocket templates - she wanted to try some cute, gathered pockets she'd seen on an outfit, so we winged that and then added some flower buttons I've had in my stash for ages.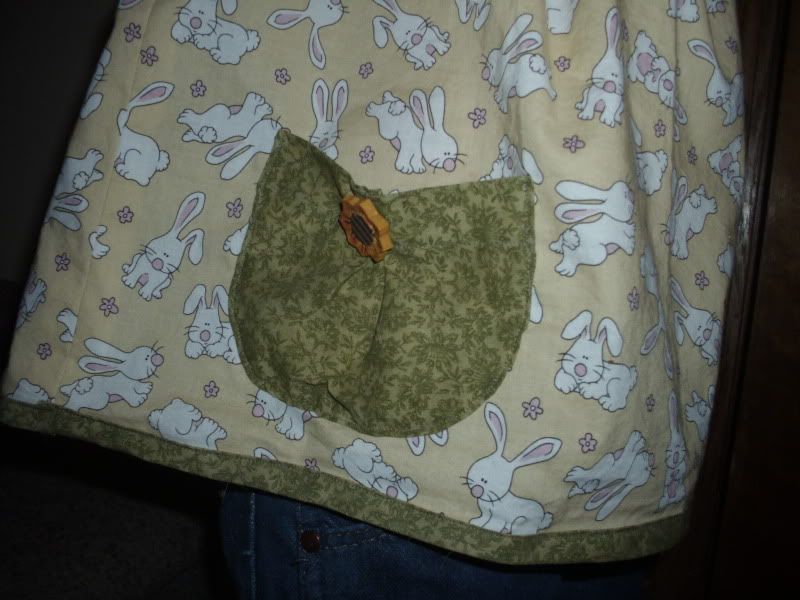 Both of us really liked the way the shirt turned out.
Ainsley's shirt was made using the
Oliver + S Ruffled Halter
free pattern.
I thought it would be a pain putting together the pattern pieces, but they were very clear and it went together really quickly.
The shirt itself was also *so* easy. And so cute finished. She got layers of blue bunnies and pink flowers. The pink flower material is from a flour sack. Seriously. We have a lot of Hispanics in this area who prefer to buy their flour in cotton flour sacks, so I grabbed one a year or so ago, washed the fabric after we'd used the flour and it's been sitting there, waiting for something. It looks really darling with the blue fabric.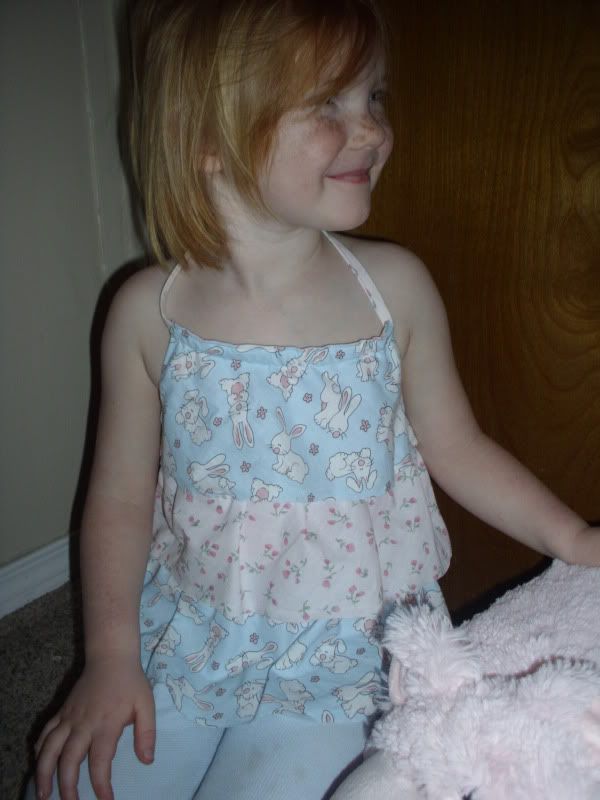 I didn't realize from the pictures on their website, but this shirt has elastic on the back to help it fit better - that's a nice touch.
I used pink cotton from the stash for underneath the front where it's not often seen - didn't need to use up cute bunny fabric there.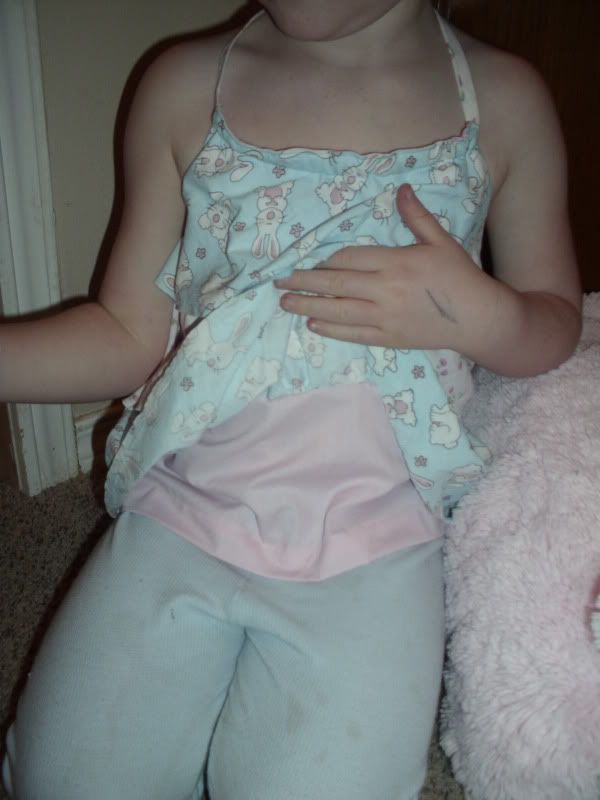 The only thing I don't like about this shirt is that I have to tie it for her each time. That's a pain for her, but she loves it so much that she doesn't mind it as much as I thought she would.
Four more fabrics used - and some buttons! Stash busting success.
Should I mention that my husband came with me to the fabric store last week when I was picking up diaper fabric and the girls walked away with SIX new fabrics? They know when to ask for stuff. Stash busting fail.