Alternate blog post title - "I don't want to sew another pair of pants until fall, m'kay?"
15 pairs of pants in the last month. I can now sew kids elastic waist pants in my sleep.
First up was this cute pair of pants for Gray.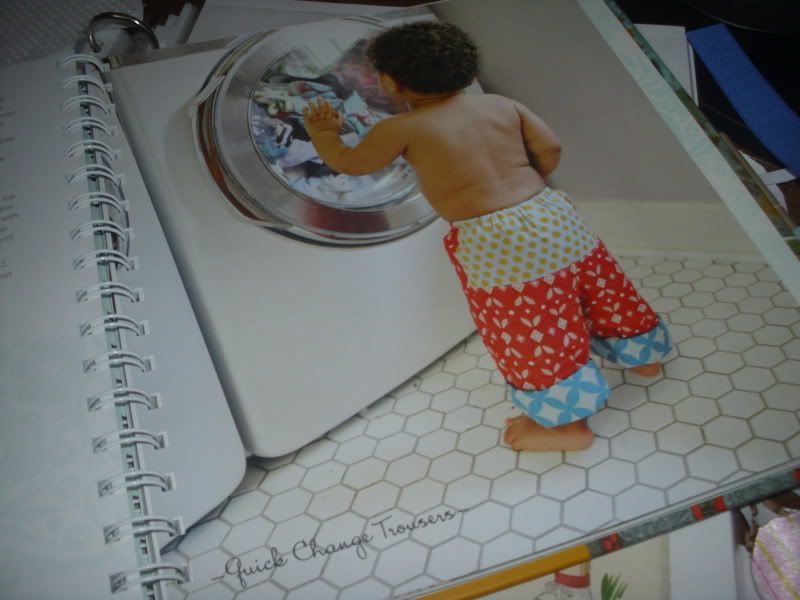 It's a reversible pair of pants for toddlers from Anna Marie Horner's
Handmade Beginnings
book.
He was out of pants that fit, I have a huge stash of fabric, this pattern is reversible! One pair of pants serves as two! I can make him four pairs of pants and he'll really get EIGHT! Sweet!
Reality check : When sewing reversible pants, one pair of pants does not equal two. It takes two pair of pants sewn to equal one pair of reversible pants. So if I want him to get eight pairs of pants, I get to
sew
eight pairs of pants. It was a lot of pants.
It was fun to mix and match fabrics and try to use up scraps I had that weren't getting used. Some of the pants I was sure were going to be camping-only pants, but they turned out better than I thought.
Pair #1:
One side:
And the other:
Pair #2:
One side: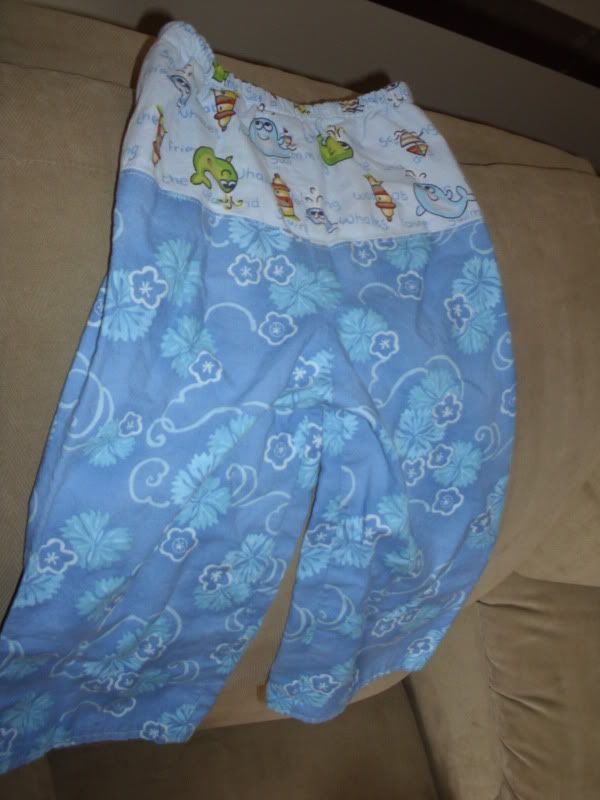 And the other:
On two of the pairs of pants I used flannel on one side for warmth.
Pair #3:
Cotton side:
Flannel side: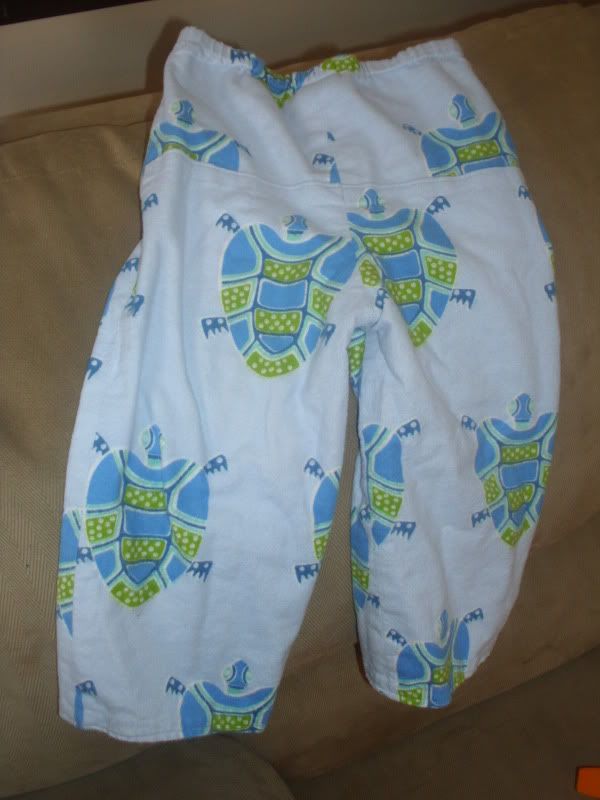 Pair #4:
Cotton side: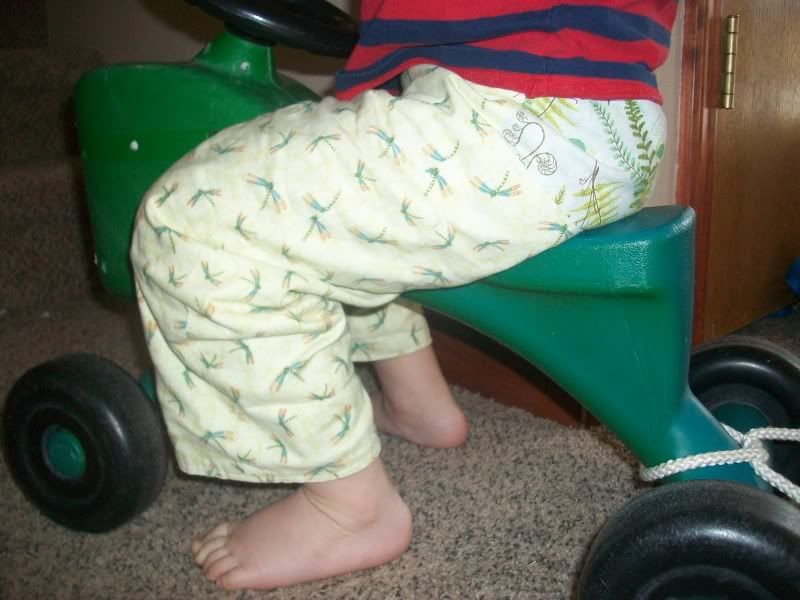 Flannel side: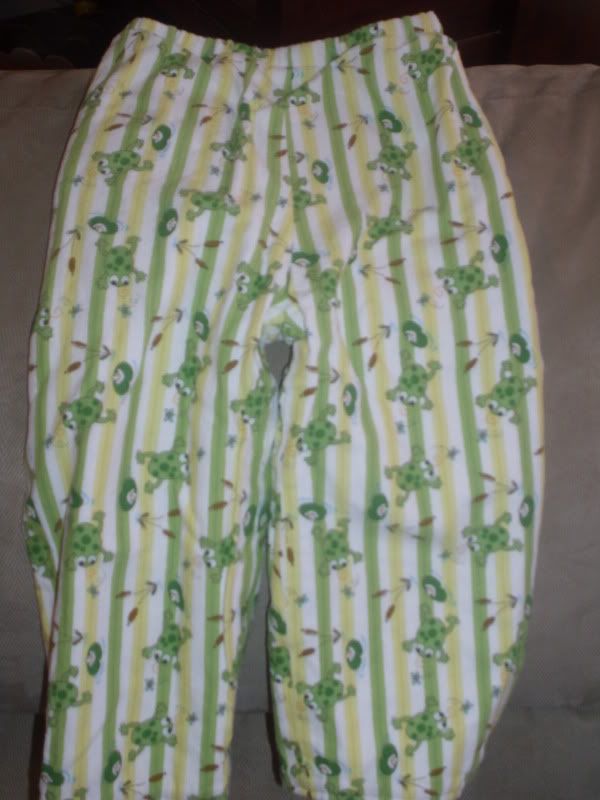 I also learned to follow my instincts when something doesn't look right in a pattern. The pattern says to use 1/4" elastic. With an active child (read: with
any
child) 1/4" elastic isn't the best for holding up pants. I should have used 1/2" elastic.
I also accidentally cut these right with the pattern instead of making the legs a few inches longer as I knew I should, so he will grow out of these fairly quickly. Have you heard of road blindness, where you are driving for so long that you kind of don't really see the road in front of you, so you have the chance of hitting a car parked alongside the interstate because your mind assumes it's a moving car and by the time you realize you're going to hit it, you don't have time to move? I get pattern blindness. I have to make a whole new pattern or mark on the fabric, or I'll just cut right around it, totally forgetting the adjustments I need to make until the fabric's already cut.
After I got done with these, Ainsley needed a pair of pajama pants, so I made her a pair. Then I made Hannah a pair.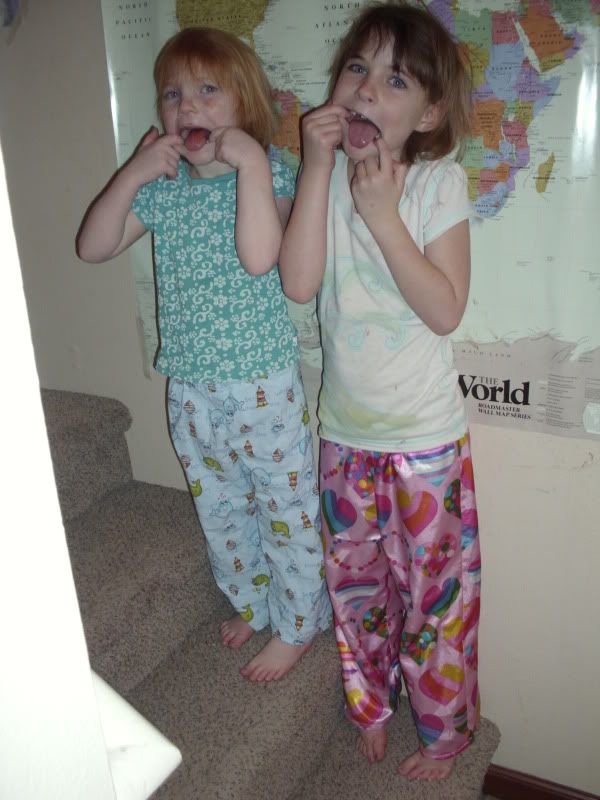 By the way, do you have any cute ideas for this fabric? For some unfathomable reason, once upon a time I bought over 3 yards of it. Three. Yards.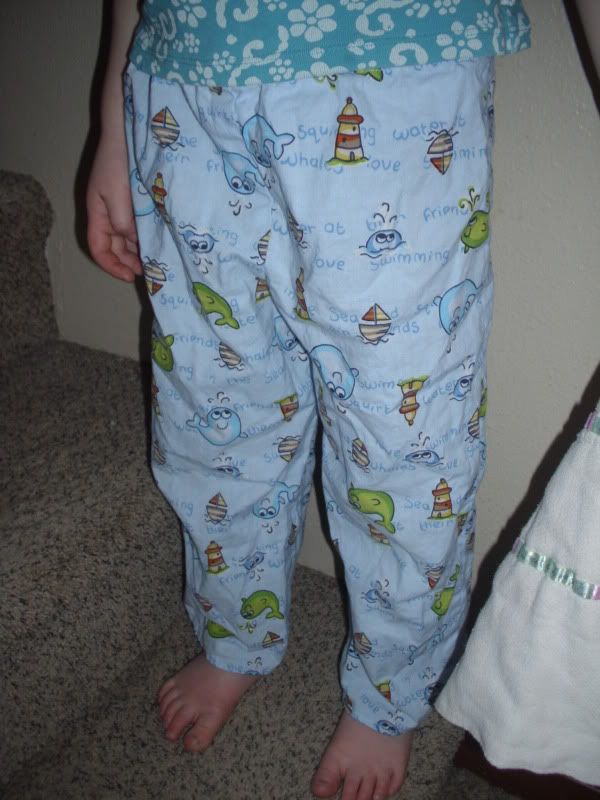 When the girls saw Gray's reversible flannel pants, they wanted a pair, so we made them some. I used the pajama pants patterns I'd just made for them, lengthened the legs, and used the same technique to make them reversible. I didn't use 1/4" elastic.
So that was four more pants done. And oh my goodness, are they cute!
The last pair was a pair of church pants for Gray. We had to go to a family gathering that involved church and I wasn't about to spend $10-$15 on a pair of pants he would wear one time, so I used a 50% coupon to buy 1 yard of $7 fabric to make him a pair of church-y pants. $3.50 is much better than $10-$15.