Sewing. Lots and lots of sewing. It has done its job. I was distracted, I was creative. I busted a lot less of my stash than I wanted to, but every little bit counts.
Thank you so much for your kind words after my last post. I treasured every one - don't think I mean that lightly.
Today I'm going to show you a project I finished - library bags for the girls with matching wallets.
Hannah has had her own card for a few years now but has never been interested in carrying it herself. Ainsley, however, is a different story. She practiced and practiced until she could spell her name by herself. All for the express purpose of getting her very own library card. And once she had it, well, it was hers. She wanted to carry it. Which was at odds with me wanting to make sure it didn't get lost so she could use it.
(By the way, there is not much cuter than a little 4-year-old carefully signing her name on the card in front of the librarian. God bless librarians who treat such moments with the proper amount of gravity.)
We compromised - she got to carry it. That's actually not much of a compromise is it? She got to carry it, in a grown-up wallet that was
attached to her library bag
. So she got a library bag out of the deal too. She was thrilled about it, as was Hannah who got her own bag and wallet.
I aimed them at my stash and had them pick out fabrics they wanted to use. The fabric they chose has made skirts and hats before. I don't know why I bought so much - and I still have a bit more of each. *gulp*
I used a Green Pepper pattern -
Market Tote and Produce Bags
- for the bag. I used the small height and the medium width (picture books can run wide).
It was so simple to put together. I was a bit stressed about the straps going on straight, but it went together beautifully.
For the wallets, I drew out what I needed - just a simple wallet with one pocket for the card - and the card had to fit in snugly - with a velcro attachment that would close the wallet tightly. The wallet also had to have a strap so that I could attach it to the bag.
It took more planning than you'd think, making sure that everything went together in the right order (there's a layer of interfacing to make it more solid) at the right time.
My measurements turned out to be right on. Once the edge-stitching was in place, the cards fit in the wallets perfectly.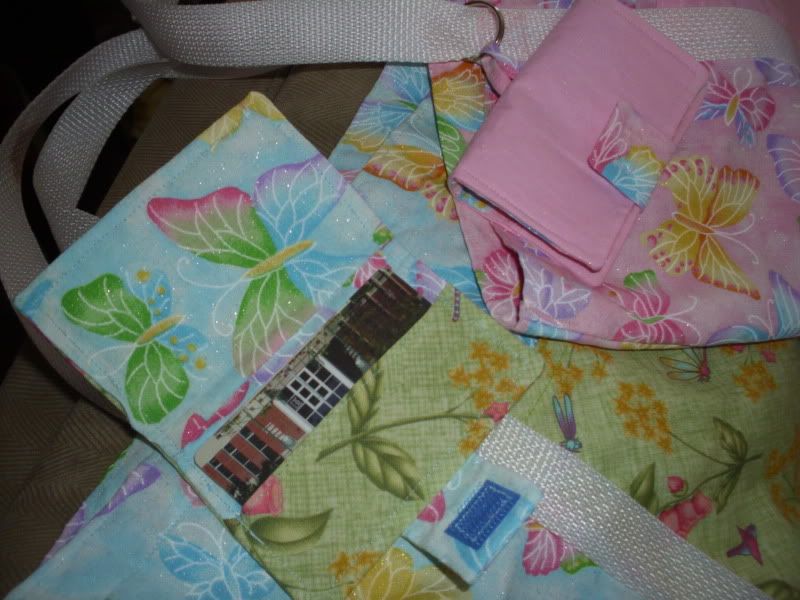 I'm rather ridiculously pleased with how they turned out.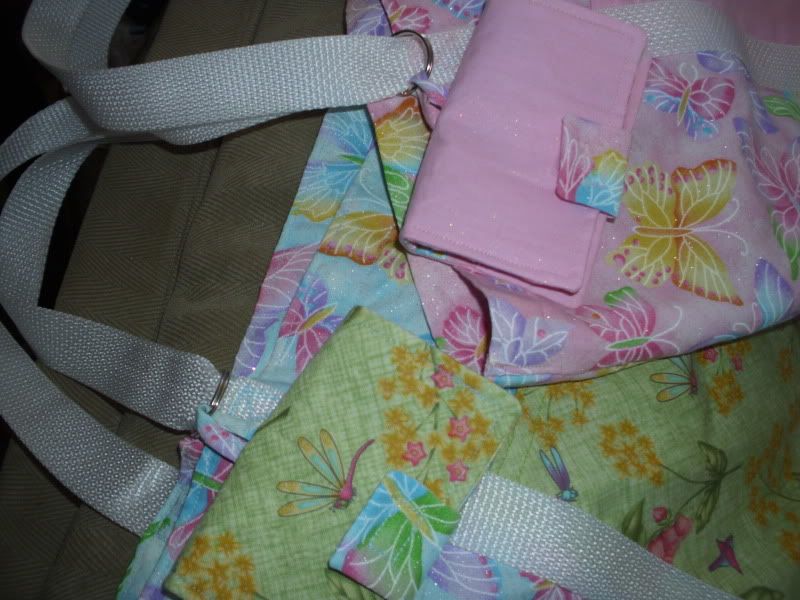 And the girls love them too. They were so excited to pull their cards out of their grown-up wallets to hand them to the librarian (once again, thank goodness for awesome, know-when-to-be-amazed-at-such-grown-up-girls librarians) and carry their own books out of the library. I carried the other three bags of their books.