Last Monday I had a post in mind - all written up about Meg and how well she was doing. Potty training? Totally on track. Bonding with family? Better than I could have hoped.
Instinct? Coming in right on track.
Recall? Dang good for a 4-month old puppy. I was especially proud of this.
For the record, hubris sucks.
So does the universe interpreting 'Getting this puppy is a declaration of healing' in a completely different way than I intended. For most of last week, my attitude was 'Bite me, universe.'
You see, on Monday evening I put the Bella and Meg out to go to the bathroom. Meg saw Cygnus chasing a vole in the driveway and went running over to start herding him. I was enjoying watching her because, like I said, her instinct was coming in right on track.
Then I saw my husband pulling into the driveway, on the phone, not paying attention. This has always been a fear of mine that drives him crazy - that he'll be so distracted that he'll accidentally hit one of the kids. Because I have this fear, I started calling Meg - I knew Cygnus would be paying attention and move, but she was only four months old. Her recall that was so good in training and when we were doing chores? Yeah, it was right on track for a four month old puppy with one thing on her mind - which means not so good when her instinct is running the show.
I had to watch as my husband ran over her and I couldn't get there in time to get his attention to stop him. This is what could be called a 'rough patch' in a marriage.
For the first three days after it happened, I was in an emotional no-man's land. I was dry-eyed as I washed and put away her kennel, mixed her food in with Cygnus' food, and moved her toys over into the 'all-dog' basket. Then I got flowers from my sister saying 'I'm so sorry for your loss.' and I cried so hard.
See, I meant it when I said that this dog was a declaration of healing for me. I was healing and I was planning to keep on healing. I had plans for this dog and me. For the partnership we were going to have, for her presence making me focus more on the 'me' part of myself instead of being 100% on the 'mommy' part, and for the fun we were going to have herding and training. I sold half of my goats to purchase her. Her kennel and toys were my Christmas present. She herself was so good for all of our family. So her loss wasn't just the loss of a dog. It was also my plans for the future.
I meant for her to be the culmination of my healing. I didn't think that I would need to heal *from* her.
It's amazing how much of an impact she had in a month.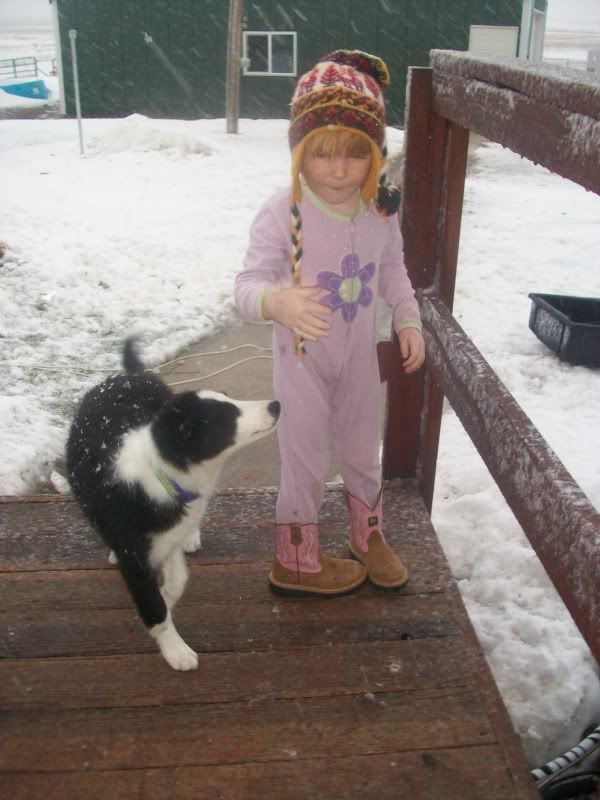 And now I need to recalibrate.
I'll be posting mainly fluff stuff for awhile. Anything to keep me busy. After all, I have a baby to get ready for.