On the recommendation of lots of other bloggers I got a book called
Carefree Clothes for Girls
by Junko Okawa, a Japanese designer.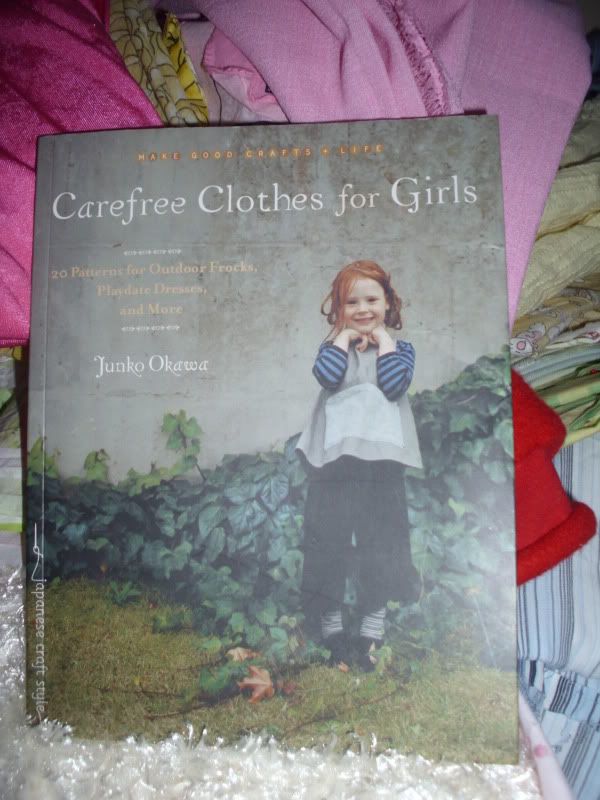 It's a pattern book and while the clothes were cute, they were (A) not my kids style - everything was white! and (B) scary. Don't ask me why using patterns from a book is so much scarier than using patterns from a store-bought pattern, but there you have it - it intimidated me.
Luckily, I have sisters that push me.
One
who taught me that I really can play with recipes and I probably won't ruin them - I may even end up with something much better than the original!
And another
who's taught me over the last year that I really can play with patterns and fabrics and I will probably end up with something better suited to me than the original. Damned if they both haven't been right.
It's funny that when I look at patterns with my girls, I take it for granted that at their ages I have to remind them that we can make the outfit shown in any color they want, yet I, at 33 years old, couldn't look at these white outfits in the book and think "Those could be *really* colorful to hide .... farm stains." When I did, oh, the options I had!
I picked the pants with legwarmers to start out with because they are perfect for chilly fall and spring days when regular skirts and shorts aren't enough but snow clothes are overkill. So the book became Carefree Clothes for Girls - and a Boy.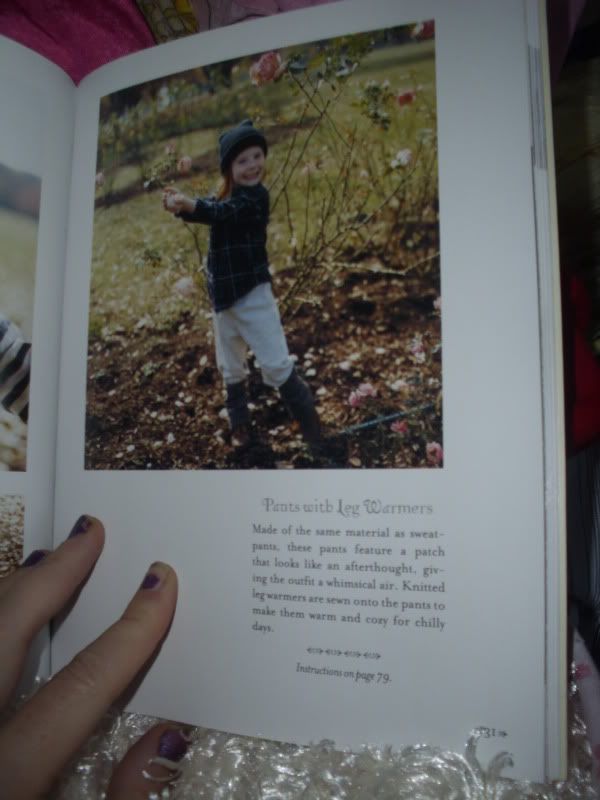 We grabbed some sweatshirt fabric that was on sale and picked some chunky yarn also on sale to match - this was not a stashbuster project.
Then I did something I've never done on my own before - I traced the pattern onto pattern paper and cut it out. And then I did it again, this time with seam allowances. They don't add seam allowances onto Japanese patterns.
The pants came together really fast - it was pretty much a pajama pant pattern. I was scared about following the sparse directions - one page of written and two pages of diagrams.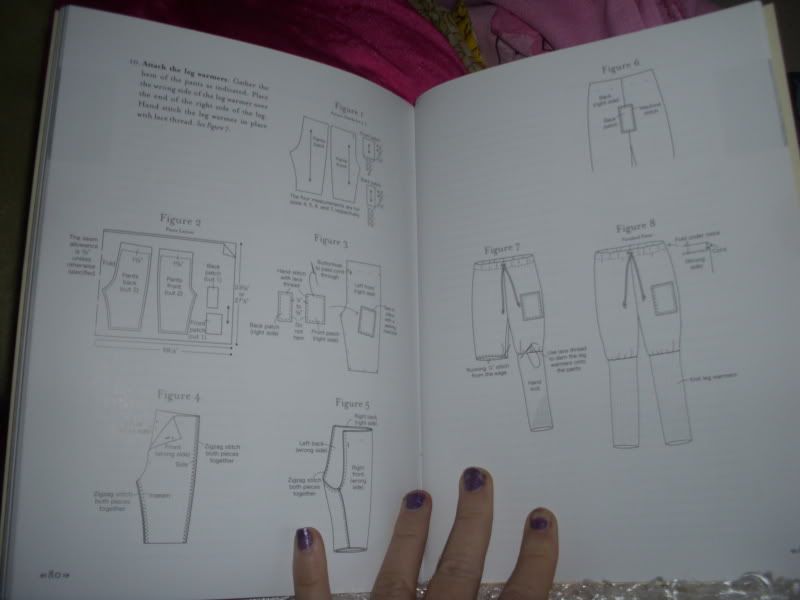 But it was easy - easier than many store-bought patterns I've used.
The designer wanted the pants to have a drawstring waist. When Hannah tried hers on, the first thing I did after I took them off was change the waists on all of them to elastic waists. Of course. No need to follow the recipe if it's not working. ;)
The legwarmers came together really fast and were easy to attach. I wasn't sure if the ribbing should go on the top or the bottom - the bottom, around the ankle made sense to me, but the picture seemed to show more structure just below the knee, though it was unclear because of the dark color of the legwarmers. I went searching around the internet, but nobody's blogged about making these yet. I *did* find a
fantastic sew-along project
- when they do the pants, I think I'll post these. I got some beautiful inspiration for more colorful versions of the other projects in the book from the sew-along.
I ended up sewing the ribbing onto the bottom of the pants instead of having it at the ankles and it's a fantastic design.
So now all three are done, and they really are perfect for the kids. One of the adjustments that I made to all the kids legwarmers was using a piece of yarn to gather up the back of the legwarmers so they weren't dragging on the ground.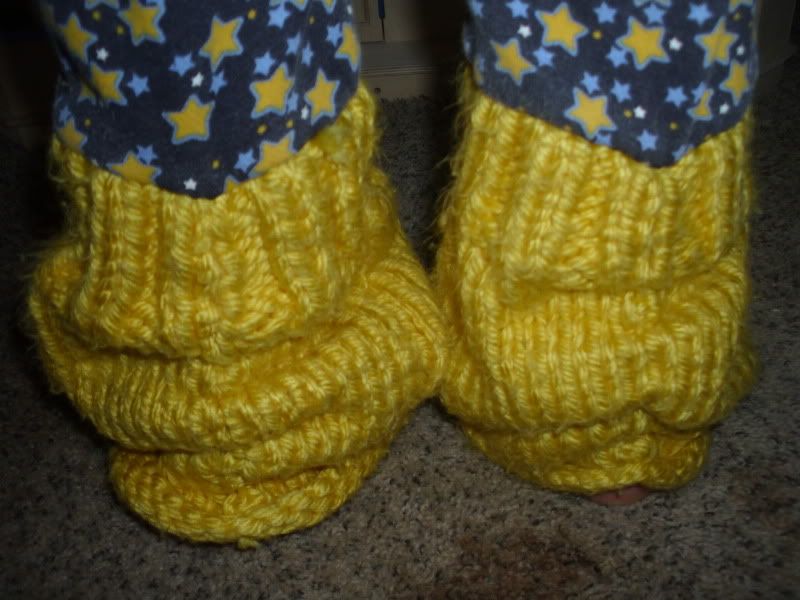 I left the front long to cover their feet or shoes. It makes the kids more likely to wear them around the house since they won't be walking on them.
Hannah chose a starry night with yellow legwarmers.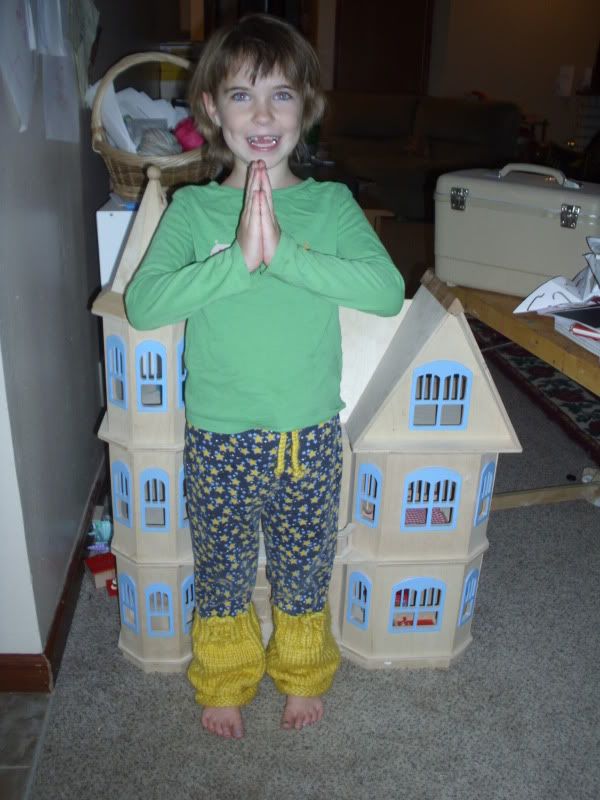 I really liked the drawstring look on the front, so I braided a yarn strip, tied it in a bow and attached it.
Hannah always tweaks her clothes slightly to fit her style (she doesn't have the hangups I do), so she added little bows to the front of her legwarmers. I thought it would be too little-girly, but it *really* suits her, it's not too young at all.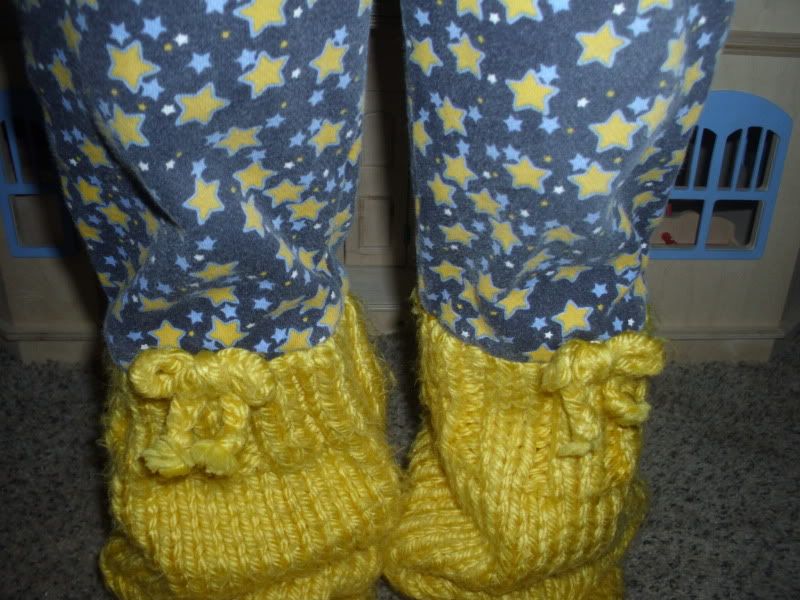 Ainsley picked bright hearts and stars with pink legwarmers.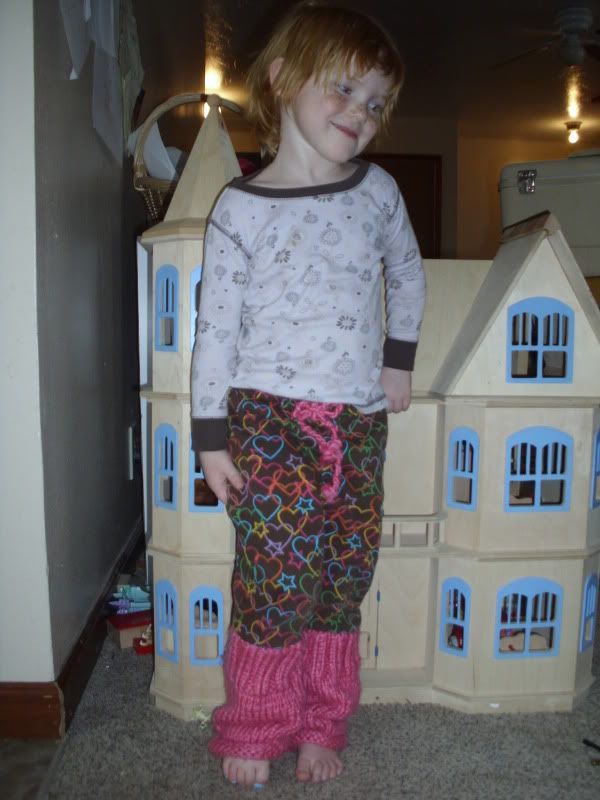 She's a pretty basic girl, though she's starting to get into embellishments, so she kept these plain but pretty.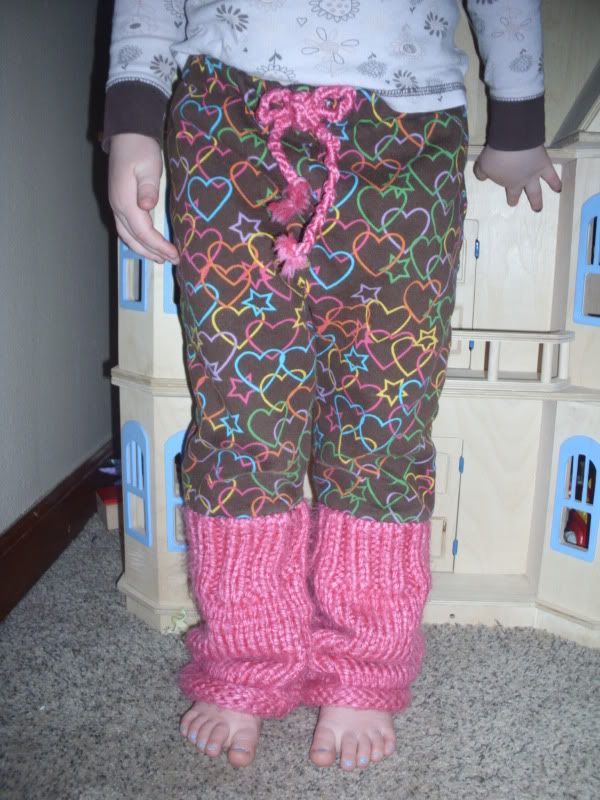 Grayson got red with slate gray legwarmers.
And you get five pictures of him. He learned that he loves posing. :)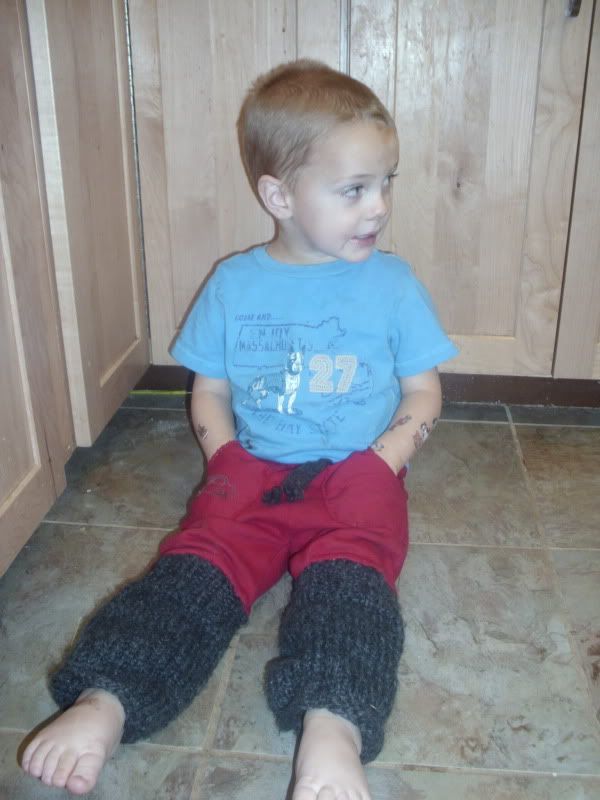 For Gray, I added pockets because he loves putting his hands in his pockets. I didn't do in-set pockets, I just sewed them on with an embroidery running stitch.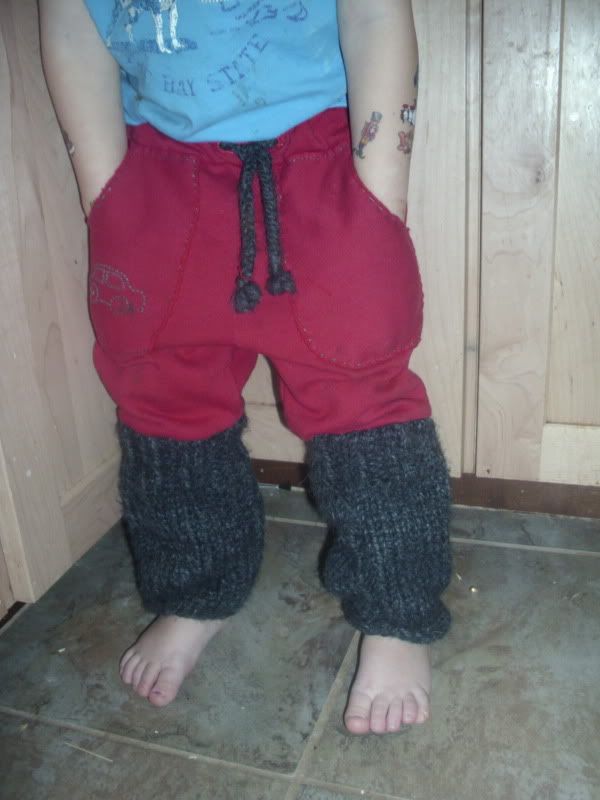 I didn't bother machine stitching it because he doesn't load his pockets full of stuff, so they didn't need to be *that* sturdy and I'm glad I didn't. I think that the running stitch looks nice with the embroidered car I added to one of the pockets.
And he loves them as much as I hoped he would.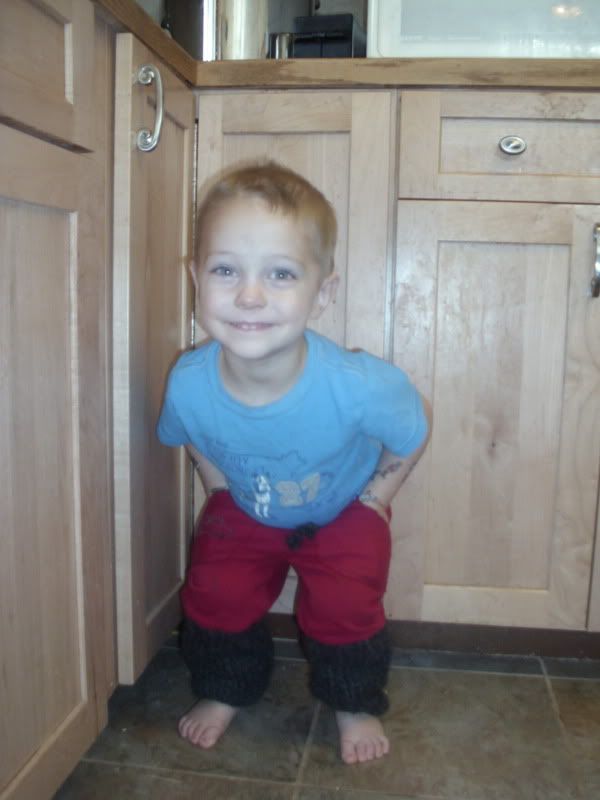 So that's one pair of pants down for all of the kids. So cute and so useful.