It's been two years since I lost the
best dog I've ever owned
. That loss, combined with the loss of my childhood best friend a month later, affected me in ways that I had no way of foreseeing then but am just now overcoming. So this puppy, accepting her into my life, is a declaration of healing of sorts.
I've been looking for a border collie for the last 8 months or so. None that I've seen or met have clicked with me until I met this one. Just look at her.
(Ains took that picture unexpectedly, but I love it.)
It wasn't just her - I met her father and mother and her breeders. Her father was very much like Dan temperament wise, but bigger and hairier physically. A total sweetheart with a good working drive. Her mother was young with lots of energy and lots of working instinct. Her breeders work a large ranch in Nevada and answered all of my questions in just the right way for me.
I was so hooked on this puppy that I weeded through my goat herd and sold four of my goats to be able to afford her and the kennel she'd need. I was grateful to the owners that they kept her for me until I could get her.
I'd forgotten how much I am in love with this breed of dog. The way they look at you, the way they move around the farm, the way they pick one person and become *that person's dog*.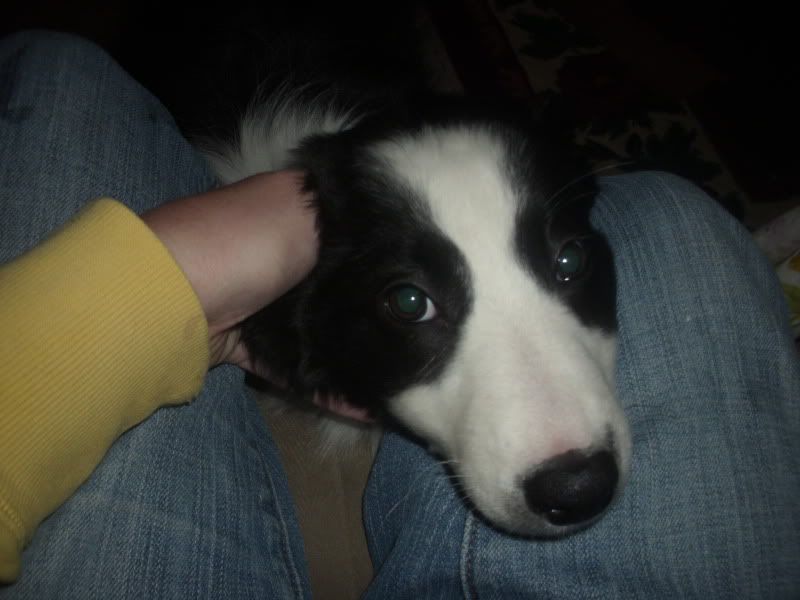 If I sit down, I have a puppy chin on my foot within 30 seconds. She's like a 3 month old ball of fur and love.
And she's learning how to play with the kids nicely.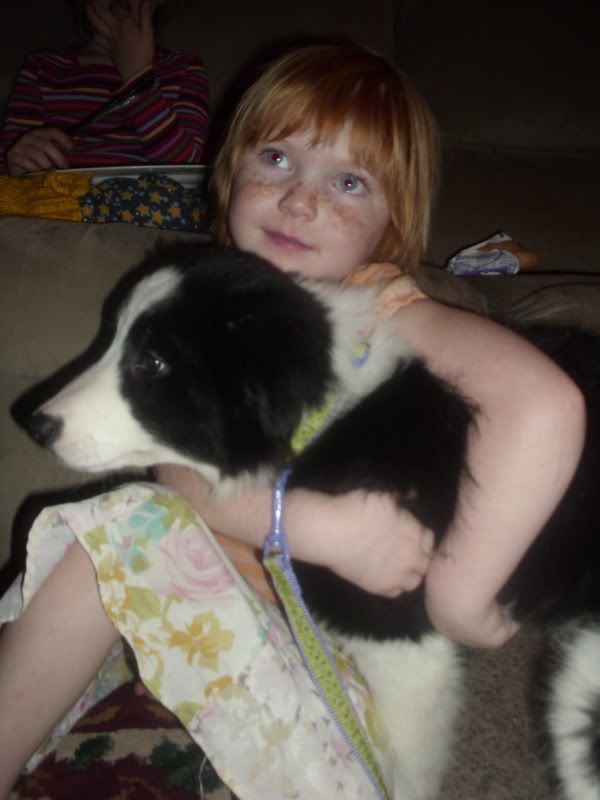 She's fun but needs to be reminded not to jump up on the littler ones.
Cygnus and Bella are reacting predictably to her. She is an energetic puppy after all. Cygnus is being extra (and so-annoyingly) protective of his bones but is tolerating her otherwise. Bella is tolerating her as long as she doesn't try to play with her - then she gets cranky, but I can see her wearing down. The other day when we were going to feed the chickens, Bella started playing with the puppy when she didn't think anyone was looking.
So now we have a dilemma. I can't keep calling her 'The Puppy.' She needs a name. Because she is going to be a working dog, her name does have some restrictions on it. The name she's called when working has to be one syllable and needs to start with a hard sound like 'Ned' or 'Dan'.
We've come up with several, but we're stuck. Can you help? (Or suggest anymore to mire me even deeper in indecision?)
- Meg
- Niamh (Irish name I love that's pronounced 'Neve')
- Ang (short for Angelina Ballerina, natch)
- Mist
Vote vote vote! She needs a name.
I've hit my 3 dog limit now and am so grateful to an ever-patient husband who has a 0 dog limit but has put that aside for his family members.