Apologies in advance for what will be a sewing-heavy few stuck-inside-winter-months-worth of posts.
Hannah was the only one who needed a new coat this year, but she wanted a 'stylish' coat. I told her she could pick out a pattern and I'd make her one. I've never made a coat before and thought it would be good experience. Now that I'm done, I have to say ... a pox on experience!
It wasn't really that bad, but I did tear out more seams than I have in a very long time.
She chose
Simplicity 2778
for her pattern. (If you watch the sales, you can get Simplicity patterns for 99 cents at JoAnns and Hancocks - the fabric chain stores in this area)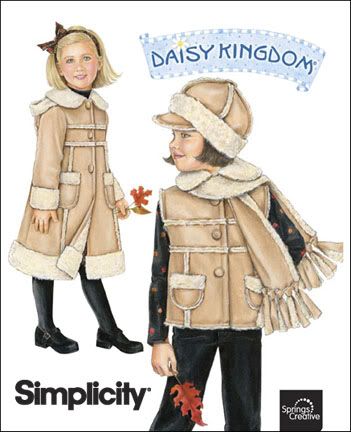 This uses a faux shearling fabric and is built with some seams inside out. That caused a few headaches for me. The first inside out seam I tore out three times. Three. Times. I am so used to sewing with right sides together, that sewing with the wrong sides together took a bit of getting used to. Then, as soon as I was used to it, they'd have me sew a 'right sides together' seam.
The coat came together really easily other than that, and she loves it. It's perfect for her and her growing-up style.
It has a detachable hood and a matching scarf.
Another thing that I messed up on was the seam markings. I learned a few years ago to use snips in the seam allowance instead of notches on the markings where seams meet up. That doesn't work so well on seams that are on the outside.
The coat has a natural bell shape on the bottom - more from the hang of the fabric used - which kind of bugged me, but Hannah loves it and like she says "It's perfect for when I wear poofy dresses." Now she needs a poofy dress.
I made a matching coat and hat for her chihuahua. I think that dog loves to dress up almost as much as Hannah. She sat at my feet the whole time I was sewing her coat and got excited every time I reached down to test the fit.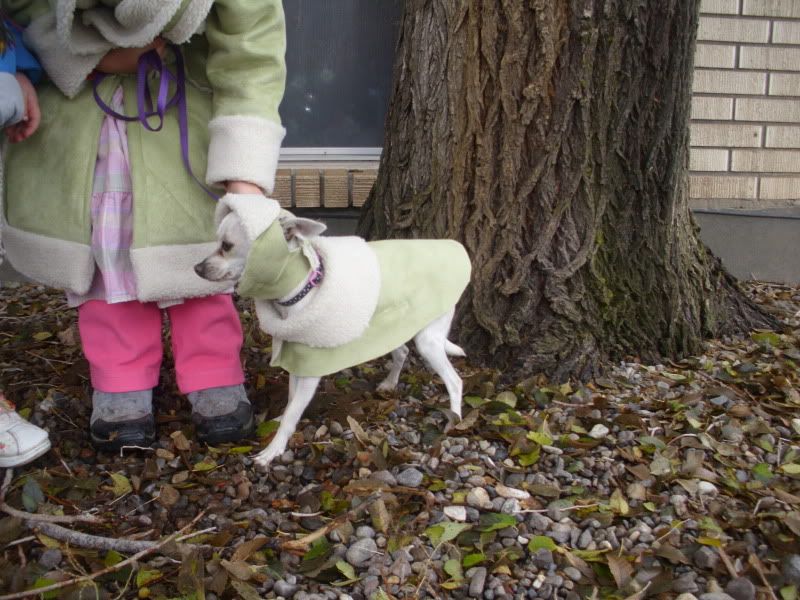 Not a great pattern for the dog, but I learned some and think it wouldn't be hard to just make my own pattern for this style of coat for her.
It's not the best chore coat - too fancy.
But for playing in the snow, it's perfect.
It used a bit less than 4 yards of fabric that I had an awesome coupon for, so this coat - and Bella's - only cost me $27. Not bad for such a stylish little girl - and her little dog, too.