The Butterfly Garden was started last year when we first moved to this house to help Hannah make the transition more smoothly. We didn't get much last year besides calendula, flax, zinnias, and sunflowers, but we got a lot of all of those and some big butterflies also!
This year ... well, this year we had a cleaner garden (no big piles of rocks to move), more time (we've been here for the entire spring), and more variety. We just don't have a lot more flowers. We had a cold, cold, *cold* and loooong spring which made for frustrated flowers. Finally, in the last few weeks, we've gotten some eye-popping color. And we're glad of it.
We put in four rose bushes. Two yellow ones transplanted from my cousin's garden. They don't look like they made it, but I'm being optimistic and leaving them in until next year. A pink rosebush for Ains, and a blue one for Hannah. Hannah's is covered in green, but Ains' got several beautiful blooms! I had to fight her off of them until I got a picture. It was only a two minute fight, but don't think that that made it any easier - she wanted those roses.
Remember the calendula I had last year? I didn't collect all of the seeds like I thought I did.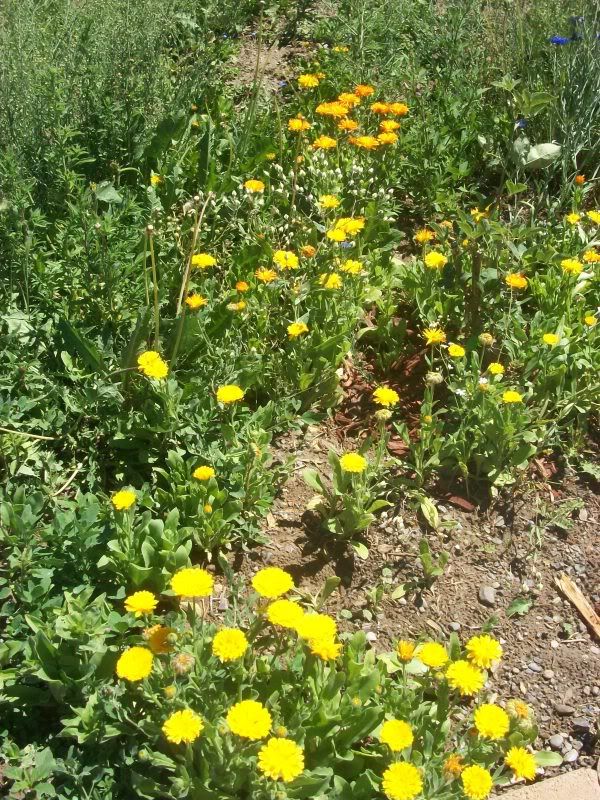 So happy to see those back - they put a smile on my face every time I pass the garden.
It's hard to see these because they're so delicate.
Lilac Pompom Poppies
. They're not striking, but they're passively pretty. I'll use them again next year because they mound nicely to fill in empty spots and don't detract from flowers around them.
Flemish Antique Poppy
. Delicate. Beautiful.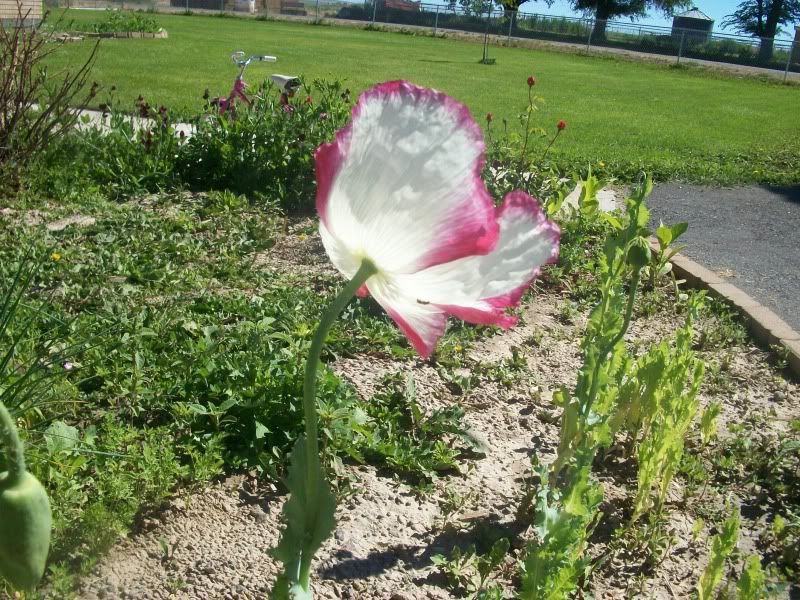 The zinnia patch. So tall and full and lush last year. *sigh* Poor things are doing what they can with what they were given this year.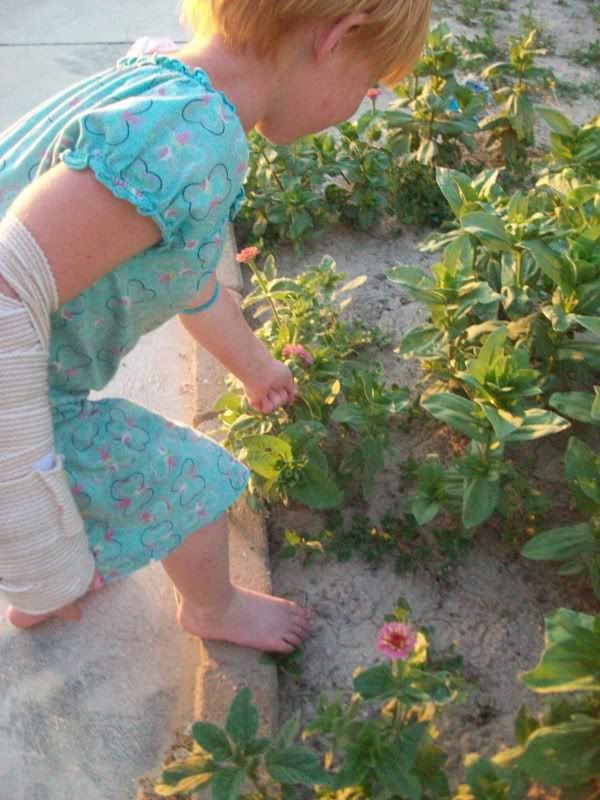 A few sweet peas by the main garden fence. I love the look of this so much that I'm planting lots more next year, if I can afford it. Is it hard to collect sweet pea seeds? This variety is
Late Spencer Choice Mix.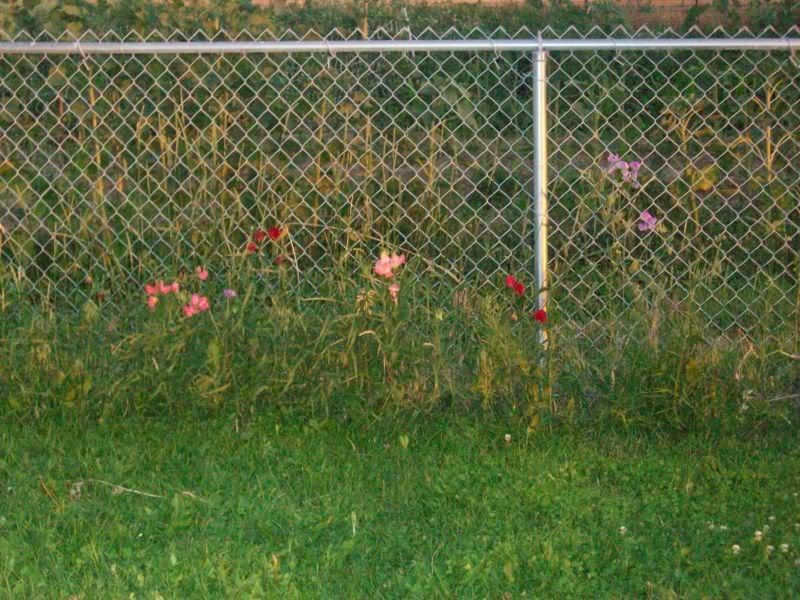 LOTS of sweet peas in the garden this year. I'll put a fence up next year for them to climb - no money for that this year, so they're mounding, and they're beautiful. This variety is
Blanche Ferry.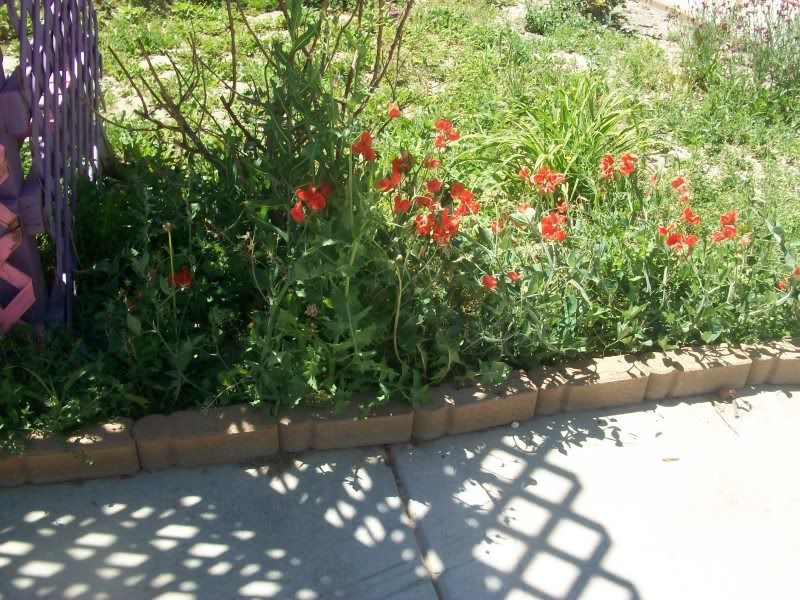 This one (my favorite) is
Beaujolais.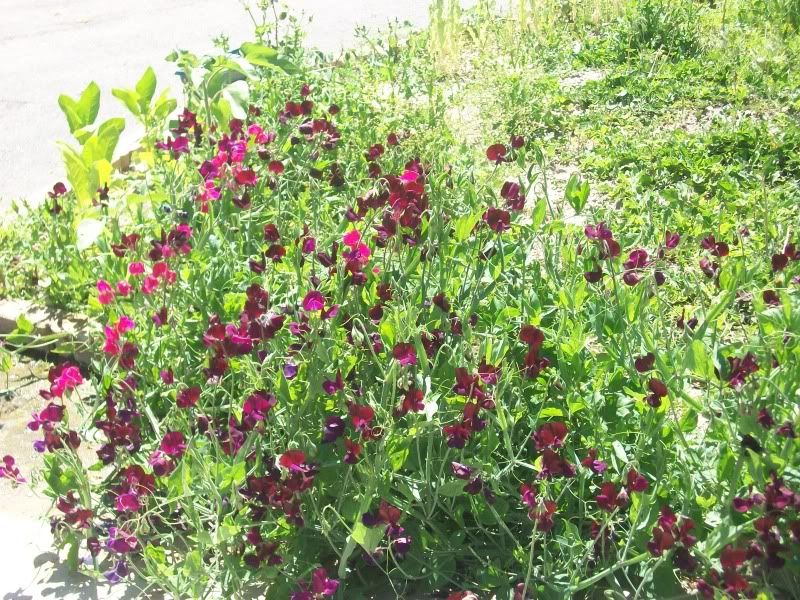 And this one is
Dolly Varden
, I think.
Our first hollyhock of the season. Don't have any idea what this variety is, but it's got a lot more petals than hollyhocks that I'm familiar with. Pretty, though.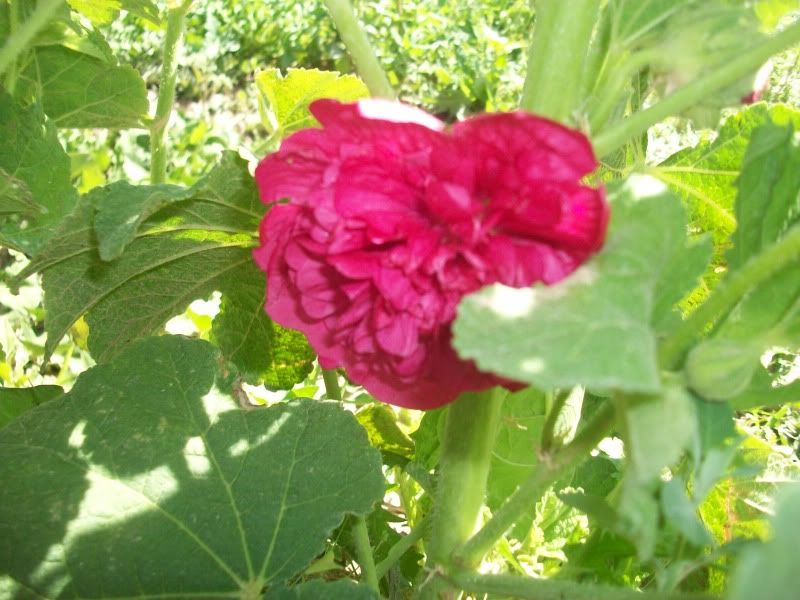 Can't even remember what these are - got them at a huge nursery sale. But they're pretty and the girls love to pick them.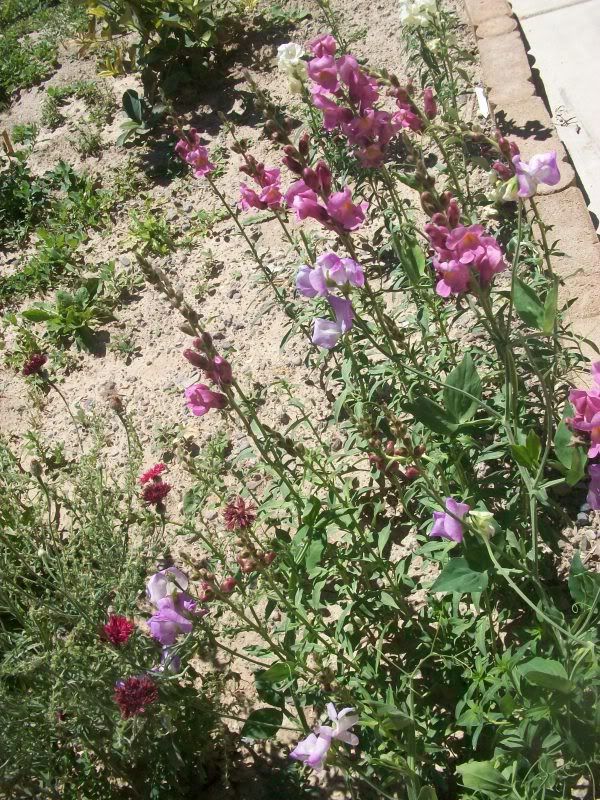 Nicotiana (afternoon blooming) and blue bachelor's buttons. I also have pink bachelor's buttons in another part of the garden.
Then there's the wildflower and flax patch around the calendula and the shasta daisy patch. Both of these patches are naturally reseeding and naturalizing which I want in this garden. The more perennials and reseeders I can get in here, the better.
And we have enough sweet peas that I can bring some in for my desk. They smell oh so good.
(The notecard on the wall is from one of my favorite artists,
Katie Berggren
)