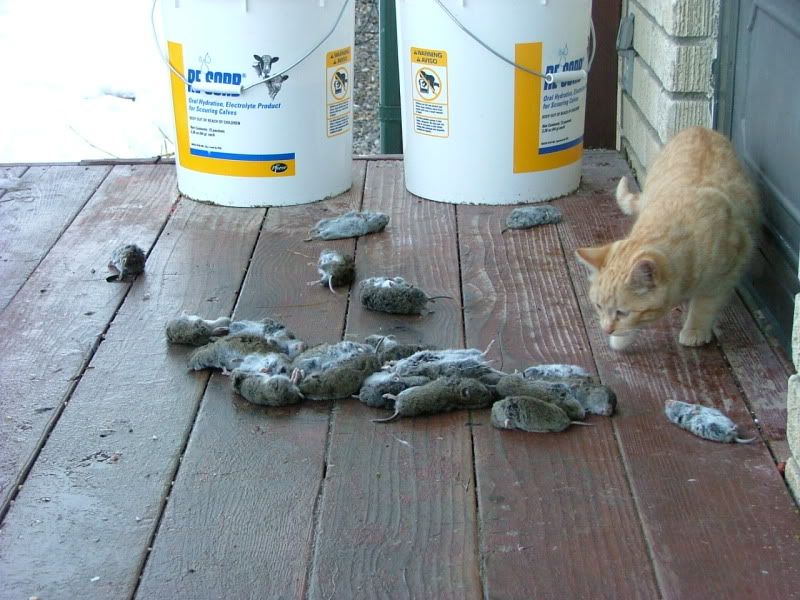 It happened again. This time the number was much smaller, around thirty, and they were all in the same place, smack dab against the door, not spread all the way around the porch.
The only similarity we could find between the two
occurrences
was that it rained the night before.
I gathered about five in a small freezer bag and bagged
that
bag into a larger freezer bag - and didn't tell my husband it was in the freezer. It's not like he'll accidentally mistake it for meat if he does find it (unlike that time that he held up a frozen placenta from my daughter's birth and asked "Is this goat meat?"). I'm asking around to see if any veterinarians in the area will look at them for me. Hopefully before my husband finds them.
The whole time I was gathering, my 3-year-old was standing inside the door saying "Get
dat
one! Oh, get
da
baby one. Oh, he so
cooooote
! Can it be my pet?" Um, no, sweetie, they're going to live in the
freezer.
As soon as I could manage it, I ran out to the chicken coop to see if there were any losses there. I only saw one dead mouse, too far back behind the old water tank for me to reach. I did find my Great Calico Huntress, though, curled up in the straw, sound asleep. She's never been one to run around with the chickens - they're beneath her - so that surprised me. It also probably accounts for why there was only one dead mouse.
So, hopefully we'll get an autopsy that will help us narrow down the likely causes, but my husband's pretty sure it's weather related.
A few extra items of note:
- I don't know what caused the confusion, but some people think that my cats and dogs won't eat these suicidal mice. Maybe it was me saying that my cats have never bothered the chickens and something was lost in translation? I don't know. The truth is, the cats and dogs eat them up like candy. Candy mice.
- Don't know if this is related, but it's creepy enough to report. A few nights ago, we were coming back from town after dark and in the last mile before we hit our house, we easily ran over more than a hundred mice. Thousands of them were running across the road, and they weren't just running in one direction, they were running in both directions. Really strange, really creepy, I had my feet up on my seat, and my husband was rolling his eyes. For the record, I'm not scared of mice, I don't squeal, but that was just
wrong
.
Discuss.
How it started.
(the pictures that started it all)
The first update.