When I went to feed my chickens this morning, I noticed that they were staying out of a corner of the chicken coop that they usually went in. I went to check it out and found this.
Like a good blogger, I went right back to the house and grabbed my camera. After I took the picture, I moved to clean them up and found even more buried under the straw.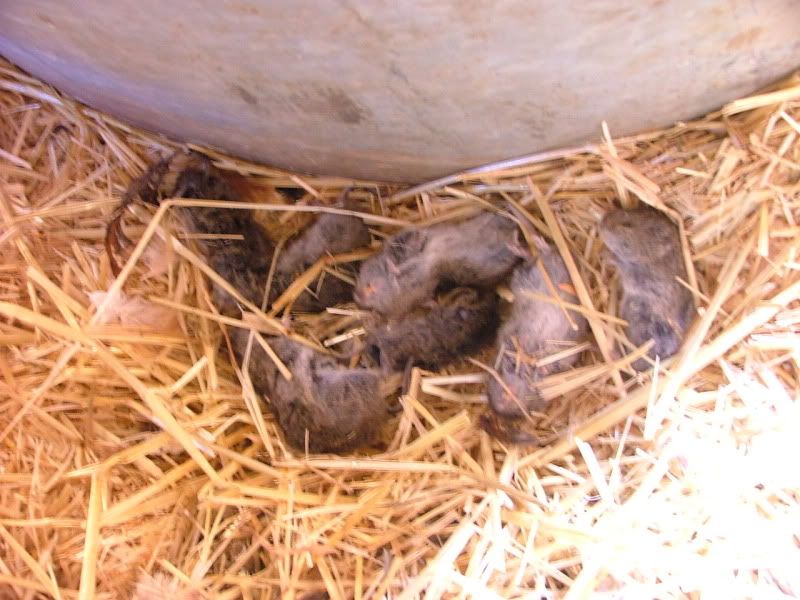 It's the strangest thing. Apart from a few on their backs, most look like they just went to sleep.
A few more facts to help in your sleuthing. Some of these facts are included because of questions I got via email.
1) While I found the bodies this morning, I may have just missed them yesterday, as I was feeding in a hurry because I was heading to town for my girls' gymnastic class; however, the bodies were not stiff.
2) Wednesday night was a New Moon and last night was nearly a New Moon - the waxing was not visible.*
3) The barn cats leave my chickens alone. Ghandi, our big gray cat, does sleep in there with them, but he's the laziest mouser you've ever seen (
this
was a long time ago - as soon as we got Aradia, the calico, he quit mousing), so that's out. While I have found the odd mouse pecked to death in my chicken coop, none of these mice were pecked.
4) Weather: We had temperatures below 0 F (so *really* cold C) all last week and a bit of snow - maybe six inches - on Saturday, Sunday, and Monday. The temperature warmed up considerably during the day on Monday, Tuesday, and Wednesday. The temperature did drop to past freezing at night, but not lower than 20 F, so not *that* cold, and certainly not colder than the mice were used to.
5) I have found no dead birds or other small animals - just mice and voles. And really, they were mostly mice, very few voles.
6) After the chicken coop find, I searched all of our outbuildings, the garage, and under the porch. Zip.
7) We are surrounded by organic farm land, so mass poisoning was not a likely possibility. I did entertain the thought that maybe our new neighbors poisoned rodents and our cat dragged them over, but with the new find in the chicken coop, especially given its distance from the neighbor's house, I ruled it out.
My husband's theory from yesterday was that with the warmer weather and the resulting snow melt, the mice were forced out of their holes and froze to death or were easy pickings for the cats. He's ruled this out now with the chicken coop find. Those mice certainly didn't freeze to death and the cats didn't even know they were there.
My theory is an alien one - just for Danni. Have you seen
Serenity
? (If you haven't, you must. But then you'll get hooked on the short lived Firefly series it was based off of. Even people who hate SciFi tend to love Firefly. You can see some episodes of Firefly
on Hulu right now
.) In Serenity, the government puts a chemical into the atmosphere that is supposed to make the citizens more peaceful. It simply drains their will to live and they lay down right there and die. So .... my alien theory for you is that the aliens are testing their compliance drug on the mice around my house. Why choose my house? Because I have a kick-ass mouser. If I hadn't found the mice in the chicken coop, they might have gotten away with it.
Anybody have any more ideas?
*Please note that any references to the book 'New Moon' or the 'Twilight' series may permanently alter my opinion of your good taste. You are free to leave theories that have to do with
Hugh Jackman
Wolverine.