This generally isn't an issue for us with our barn cats. They eat the mice they catch and occasionally, if their kittens are near the porch, bring the mice to the porch for their kittens. This morning, however, I walked out to chore and found that our best mouser had brought some mice to the front porch.
Now I've always known she was a good mouser. But now? If there were a competition for barn cats, I'd enter her in it.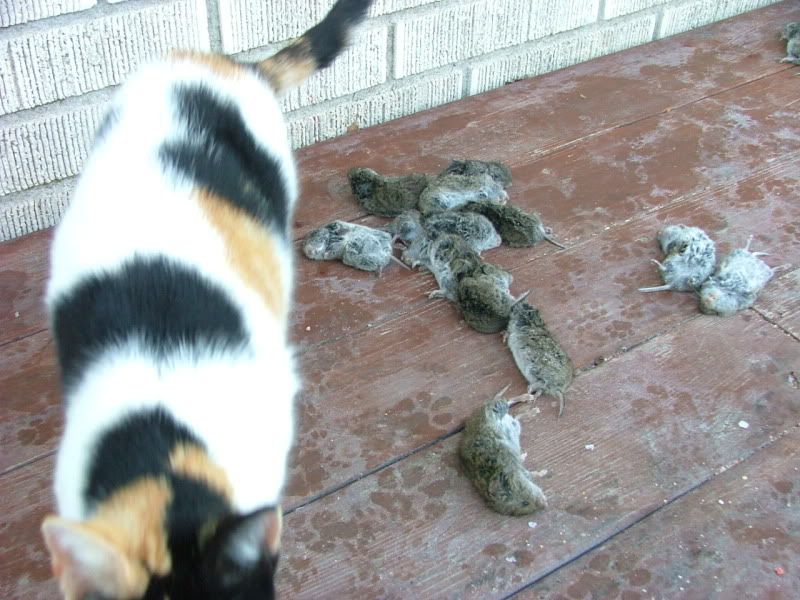 I know. Gold medal.
Now, before you get all excited/stunned/disgusted about how many mice that is, I should tell you that that's a close-up shot of *one group* of her mice. Here's a long shot.
And that doesn't include all of the mice around the corner and on the lawn (the ones the dogs had hauled off to play with).
So does anyone have an explanation for this besides "You have an overachieving barn cat"?
Some pertinent facts to help in your guessing -
1) There were over 50 when I stopped counting.
2) There were no visible wounds on them - classic cat kills, apparently. (So they probably didn't try to attack the house in the middle of the night.)
3) The bodies weren't stiff, so they were all recent kills.
Have at it. Any ideas?