First, I wanted to put up a picture of my transplanted rhubarb.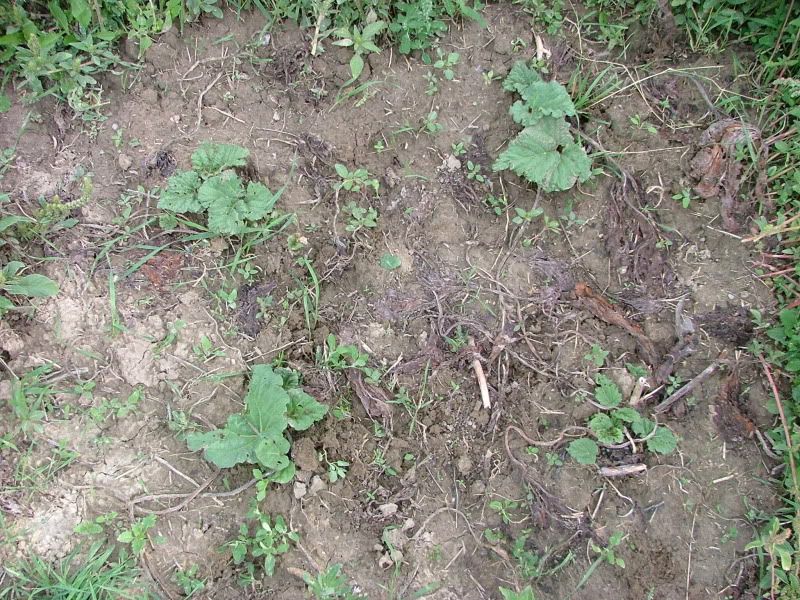 It's doing well. The leaves are all strong, thick-stemmed, and look vibrant. When I first transplanted the rhubarb, I divided the root into four pieces. The transplant shock killed most of the leaves that were on the plants and a rogue buck goat ate the rest (that were brown by the time he got to them). I wasn't worried because when I'd given rhubarb plants to my cousin, they'd gone through the same process (minus the goat) and the roots had pushed up new growth immediately. These did the same, right on cue.
I really wanted to bring rhubarb with me from 'the old house' since it's an older rhubarb variety with a *lot* of flavor, is very hardy, and produces throughout the summer if you water it well. I'm really tickled that it appears to be settling in here just fine.
Tonight I finally got my husband to help me build new nesting boxes for the chickens - they've needed them desperately. We had to leave our old set-up at the other house and the chickens have never quite settled into options I've given them here while I've waited for my husband to have the time to help me out. I don't know enough about woodworking.
So we got busy building.
The girls helped out where they could.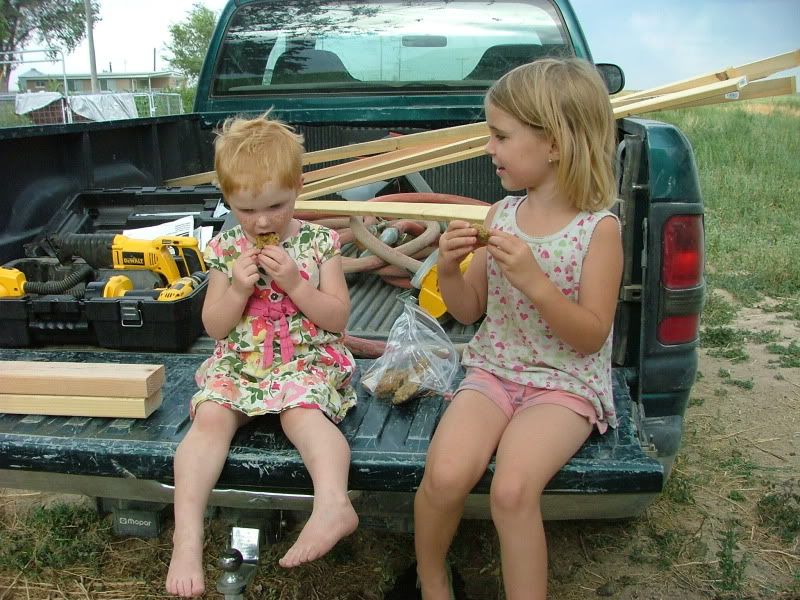 (Eating cookies on the tailgate while cheering for "The best mother and father ever in the world who make nest boxes! YAAAAYYYY!!!" was their contribution. Gray was asleep on my back.)
Matt gave them scraps of wood to play with.
Hannah worked very hard on hers, etching with nails and using a hammer and nail to make 'circle designs' on her wood. She didn't tell us what she was making - it's a secret.
Ainsley disdained the scrap wood and used the pieces Matt was cutting for the boxes to make 'little bird feeders' with chicken feed.
Gray, who was awake by this time, carried around scraps of wood and giggled every time the saw started up.
The nest boxes are done. Next project? New roosts. I'm not giving a time frame. I'll only disappoint you.