I sent a package to my friend a few days ago - she should have gotten it now. She reads my blog, so I couldn't show these off before today.
Aren't they cute? Two more sundresses for her two girls. I hope they fit. I've never made clothes for kids I didn't have right in front of me.
Also, I thought I'd show you a few other things that I've made out of that almost-duck fabric.
I made beanbags from scraps when I cut the shopping bags. I didn't get any pictures of them - and don't have the desire to go downstairs and take a picture of a pile of beanbags. I do have a picture of some of them that my cousin's daughter and I embroidered for my cousin's birthday. They're for her to throw to her kids when they haven't finished a chore. I don't even know if she's a 'chore' type of mom. They aren't something I'd use at this point, but if we were a chore type family, they would add a bit of fun to the process. Anyway, we had fun making them, and she loved getting some sweet embroidery work from her daughter.
Baby hammocks, made for some friends.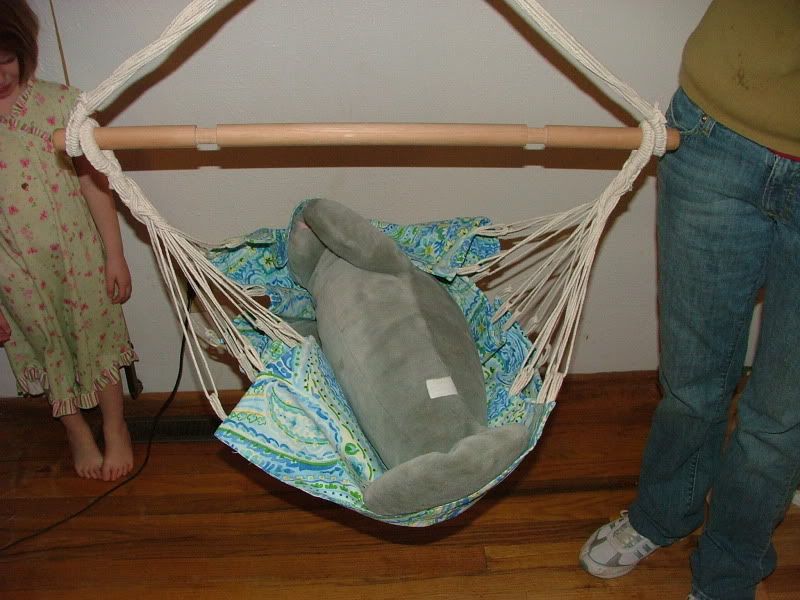 The first turned out lovely - I never heard any complaints - but the second one I made too long. I didn't realize it until the strings were already in and I couldn't fix it. You can see how it curls over on the manatee's head. I think it was useable ....