I decided awhile back to make my own shopping bags. I know you can get them for 99 cents at any store, but those have the store's name emblazoned across them. Apart from feeling goofy for using a Wal-Mart back at your local grocery store - or worse, at a local farmer's market - I have a personal policy about not paying a company to advertise for them. This makes not wearing name brand clothes a really easy choice.
Like I said, I'd decided 'awhile back' to make some bags, but hadn't done anything about it. Then I signed up for a shopping bag swap in a forum I'm on and I was on the hook to make at least one bag. In for a penny, in for a pound. I made nearly forty bags.
The pattern I used was
Simplicity's 2806
(the green bag in the upper left hand corner). I wanted to use
Green Pepper's
Market Tote pattern (F882), but my pattern was missing the instructions - very strange.
I altered the pattern quite a bit. I didn't put pockets or keychain holders on any of the bags. Also, it called for a lining, so I cut out as many bags as I could out of the muslin I was going to use for the lining. While I was cutting it out, the constant handling of the fabric made me realize that the muslin could handle the wear and tear just fine as it was, and the fabric that I was going to make the outsides out of was even stronger - so why line it? It's just a shopping bag, after all. So then I cut twice as many bags out of the duck cloth type (lighter than duck fabric, but the same look) as I'd planned.
See, I have this problem with this type of fabric. I adore it, I buy it and collect it and hoard it when it goes on clearance, but I'm not always so picky about the pattern on the cloth. I've ended up with a few real doozies. Hot pink doozies that even my pink princess girl doesn't want. This was a perfect opportunity to put all of this fabric to work.
In the end, I gave some bags to my sister-in-law (She didn't pick any of the pink leopard print.) ...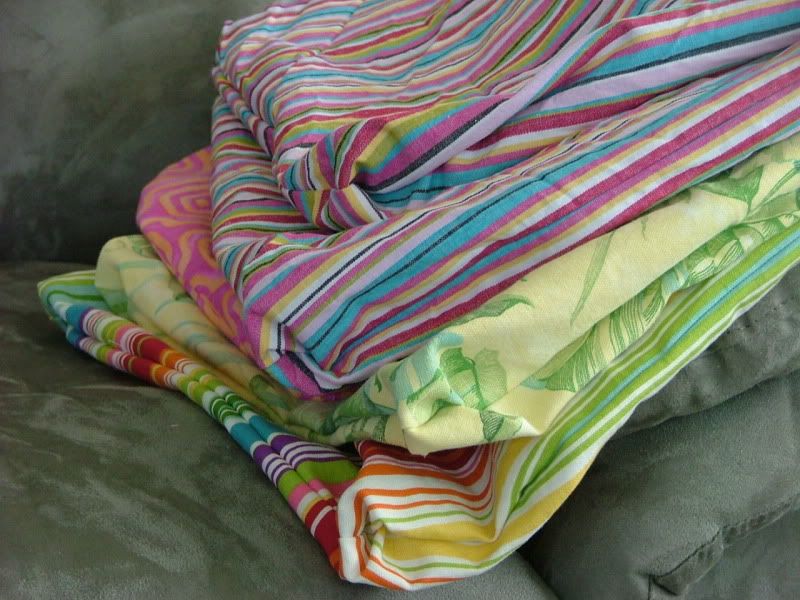 and kept the rest for shopping and as just-plain-useful bags.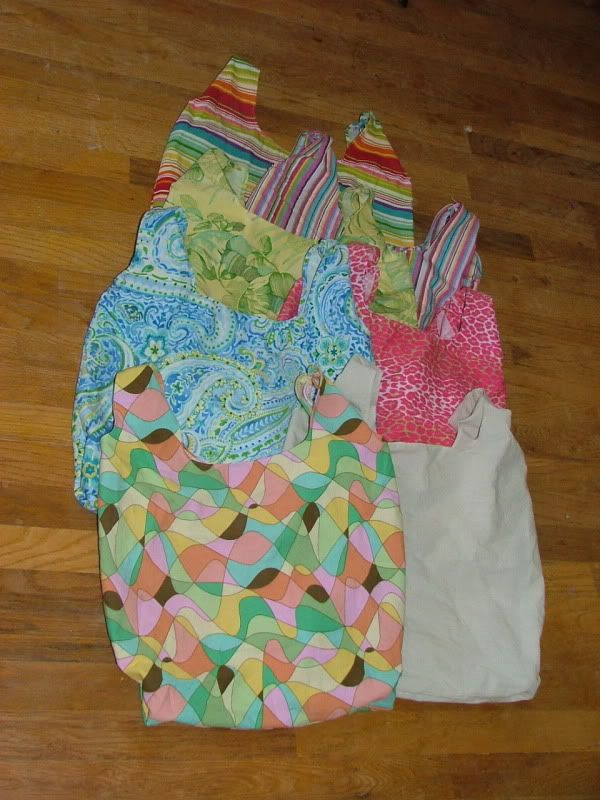 I finished these clear back in May, so they came in very handy during our move,
and we use them constantly when we go to the library, travel, or camp.
Still, I have a lot. I have a lot that have never even been used. So I want to give five away to one of my readers. Canadian readers - don't be shy, if you win I'll send 'em your way. If you want a chance to win, comment with your favorite travel or camping food - I need the ideas. Have your entry in by this Thursday evening at 7 pm MST. I will have my pink-head assistant draw a name out of a hat that my red-head assistant is holding while my tow-head assistant giggles and chews on the dog's ear. Fair enough?
If you win, I'll contact you and you can tell me your top five pattern choices. You can even pick the muslin ones (just remember, that stuff's the devil to iron if you ever have to wash the bag). They aren't professionally made and have no fancy embroidery or applique (though I'd looove to learn to do that - have you seen
Sugar Creek's stuff
? oh my.) but they're well made and purty (depending, of course, on whether or not your definition of purty includes fluorescent orange geometric shapes on a hot pink background). What more could you ask?
Good luck!