We live on the original homestead of the farm that surrounds us. Hundreds of acres of farmland, and all but one of the houses within a few miles of us have little wooded areas. Very little wooded areas, but they're there. This combination of farmland and wooded areas gave pheasants a great place to live in the summer and protected places when the crops came down. We rarely went a day without seeing pheasants.
We've lived here three years and this area's been so over-hunted by one of the neighbor's sons that Idaho Fish & Game added our area to the 'restock' list. A few months ago I looked out our window and saw two handsome pheasants strutting around. Now either Fish & Game employees don't realize that you have to put two *different* sexes out to make the population of an area grow or they placed these two plus several hens and the drab brown hens are just better at hiding. It's probably the second, though the first isn't outside the realm of possibilities.
Today, I looked outside our front window and saw this gentleman on our porch.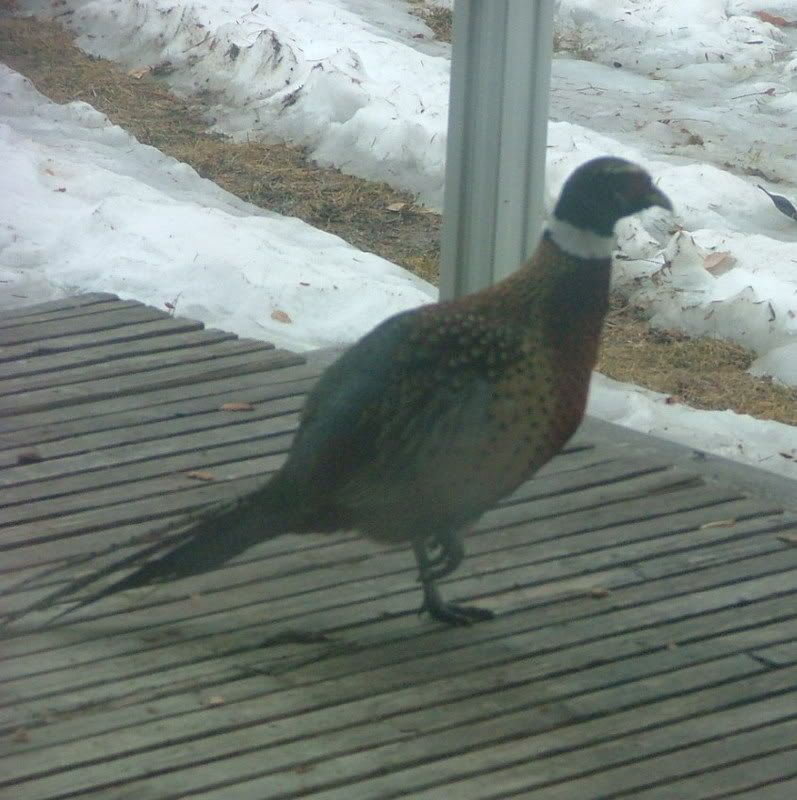 Now today was so very cold, and so very windy, but I was still a bit nonplussed by what he did next. He sat down, stared at our door, puffed up, and stayed there for several hours until his buddy came by and told him something, presumably that he knew where to score some Brewskies, and they went running off towards our little wooded area.
Now why would he do that - the puffing up on our porch thing? Perplexing. If I were my four-year old, I'd have my magnifying glass out, studying his footprints for clues. And I'd probably come to the conclusion that he did it because he had a fever. Fevers are the cause of everything strange in my four year old's world.
In unrelated news, I got my first double yolked egg! Surprised me from such young birds.