While chatting with the owner of the local pumpkin patch, I learned that he gives away all of his surplus pumpkins "as soon as the season is over" - November 1. He said that by the time he gets up that morning at 8 am, all of his pumpkins are gone - picked up by locals who want inexpensive supplemental feed for their animals through the winter.
So at 5 am on November first, I nursed my infant and then left my family sleeping while I drove - sleeping - to the pumpkin patch. There was no-one else there, so I backed up to the pile of pumpkins that I wanted and started loading the truck. As I got in my truck and drove away, three trucks with horse trailers pulled in and backed up to the piles. Had I gone to get pumpkins at 6:30, I wouldn't have gotten any.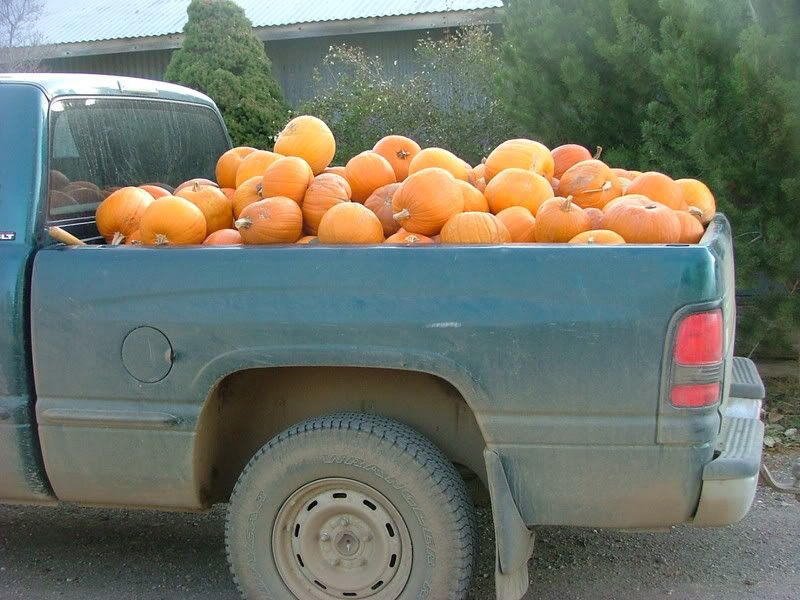 I know, I know. You expected more, didn't you? That's a lot more than it looks like, I just couldn't balance them well any higher.
When we got home, my girls helped me unload the truck.
I separated them into two piles - good, solid pumpkins that will last and bruised, soft, punctured pumpkins. Any with cracks went straight over the fence to the goats. They loved them. Then my husband's sheep discovered them. Should the animals belonging to the one who got to sleep in profit from my early morning work? ... Somebody had to watch the kids, I guess. And the sheep do love them.