We got our first egg a few weeks back.
I saw it in the coop and sent Hannah in to 'check for eggs'. She had checked every day for the last two weeks, so was as optimistic as only children can be but still quite stunned when there was actually an egg in there.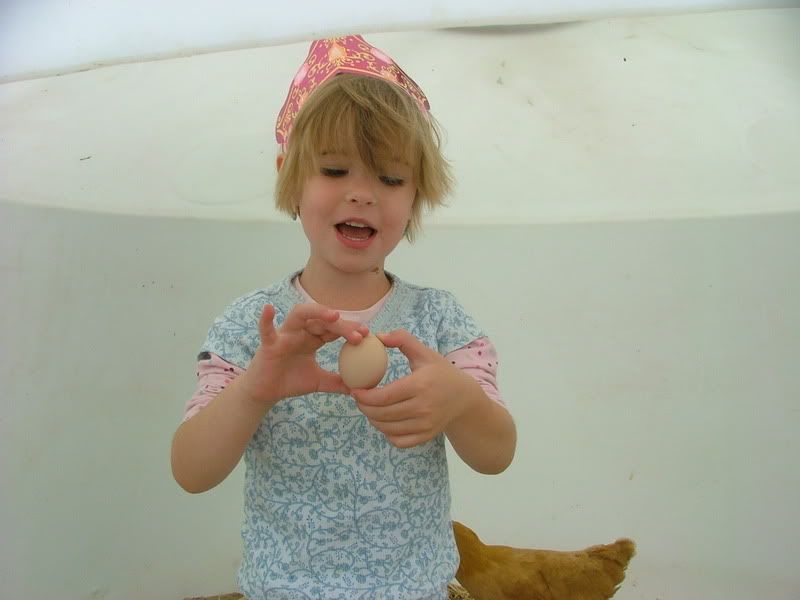 She wanted to fry it up immediately. Unfortunately, in her excitement she broke the egg on the way to the house, much to the kittens' delight.
The second, third, fourth, fifth and sixth eggs fared no better, though they made it
incrementally
closer to the house. Finally we got an egg into the house, got the water to boil it (by this time, frying was no longer appealing for some reason), and the egg fell onto the floor. The eighth egg got boiled.
We now have four hens laying, though the rest should start up soon. I didn't expect any to start laying until the first week of November, so the first layer was a very early maturing hen.
Hannah now has a 'job', self-assigned, to gather eggs every afternoon. Now that all the roosters are 'harvested' (oh, how I'll miss their crowing - I enjoyed that), she's not nervous at all out there. They had yet to threaten her, but she was nervous.