Winter is here.
I've left my camera three hours away. If I had it, I'd take a picture of our winter wonderland. It started snowing sometime in the night and hasn't stopped all day. I expected an inch, max, that would melt by early afternoon. That's the way fall segues into winter here. A few test runs, with snow falling and not sticking, then falling and sticking for a few hours, then a few days, then winter is here in earnest. We've skipped fall this year.
I had to chore in my wellies today because the snow was four inches deep and still coming down. It was peaceful, as it always is when you chore while snow is falling. Did I say falling? Can you say the snow is falling if it's "falling" horizontally instead of vertically? It was peaceful if I kept my head turned to the east. Turning my head to the west resulted in snow stinging my eyes.
The poultry were tucked up in their coops, peering curiously outside.
My husband's new batch of sheep, plus the sheep he's brought home from his parent's place were relaxing behind the wind break with the pony and the goats. The cats were playing in the hay shed.
So, in memory of warmer times, here's a picture of Hannah and her cousins picking peas this summer. These are Arizona cousins. I don't believe they've ever seen snow fall down, much less across.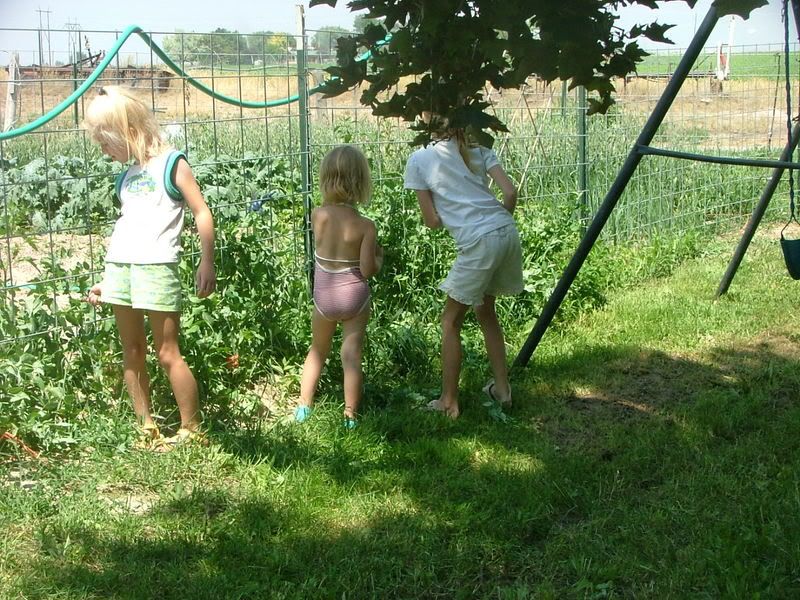 And this. My sister took this picture of me taking my sister-in-law for a child-free (almost - Ains is sitting in front of my feet) ride. Our neighbor's fields are behind us, one of our "pastures" is in front of us. More than thirty years as a dairy feedlot. Four of our "pastures" are like this, two that we'd like to develop into actual pastures, one into a larger garden, and one to stay a dry lot. What do you think? I encouraged weed growth this year by watering a lot, hoping that the weed's roots would help break the ground up, but that ground is still so hard. I'm not sure what steps to take to make the transitions. Something to research this winter.