Our plums are just now diminishing. We had a *lot* this year. I'm not sure what type they are - they're small. A full, ripe plum will fit in the center of your palm. But they're very tasty. The girls and I have spent many fall afternoons picking plums. We've canned three experimental plum recipes - a chutney, a conserve, and a steak and burger sauce, all from my *big* Ball book of preserving. The conserve we've tried already and it is *tasty*.
This is us heading down into the trees. The camera angle is wonky because Gray was on my back and right as I snapped the picture, I heard what I thought was violent projectile vomiting. It turns out that it *was* violent projectile vomiting, but since he was on my back, there wasn't much projecting.
*shudder*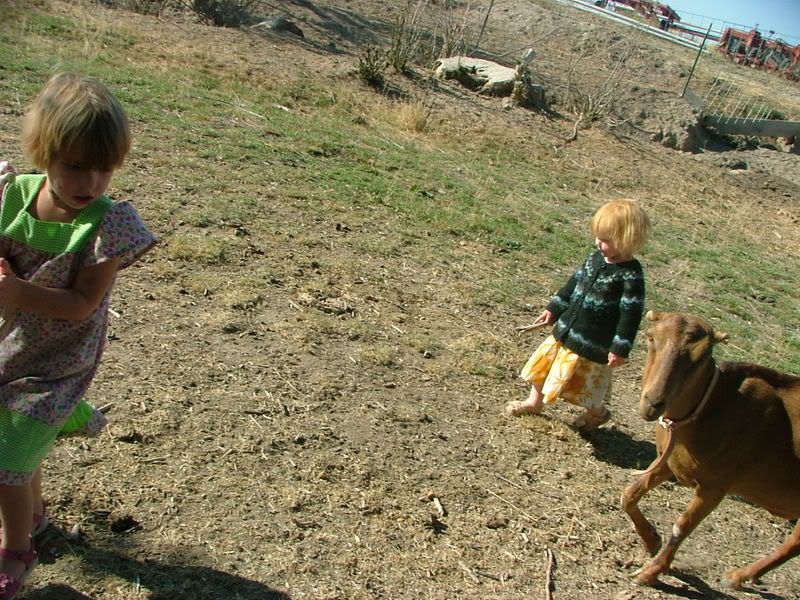 We had a wonderful crop this year - more plums than we or our friends could harvest.
Hannah had a stick and she wasn't afraid to use it. The "dang darn goats" kept coming after her basket of plums.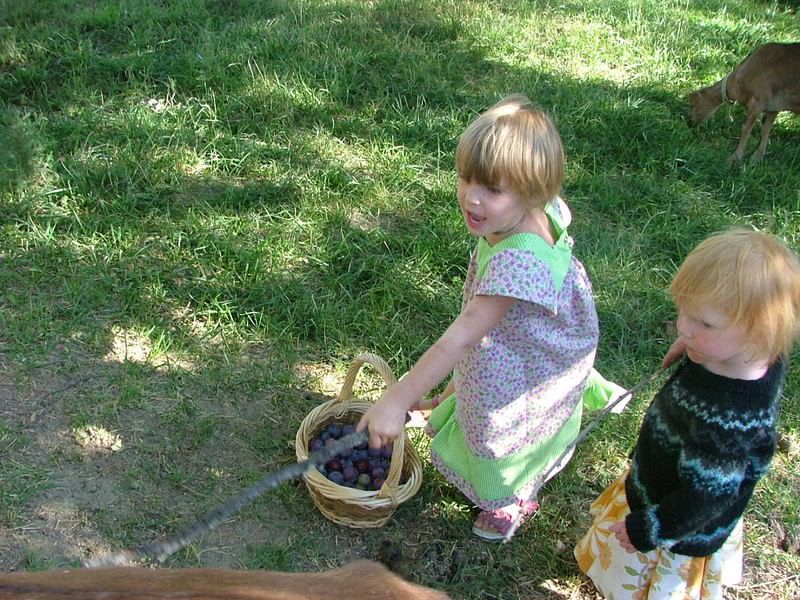 So I shook one of the branches and tons of ripe plums came down. That kept them busy for awhile.
Long enough for Ainsley to try the plums and realize she liked them.

Really liked them.
Liked them enough to defend them herself when Tamari got bored with the goat's pile under the trees.
Hannah handed me one of these double plum anomalies and said "Look, Mother. They look like your breasts."
Isn't she sweet? I *wish* that's what my breasts looked like.
In the interest of being totally, completely, fully, and unnecessarily honest, I have to say that *this* is closer to what they look like these days.

What can I say? Nursing does that to a girl.
At least it's not as bad as all this yet...