Here in our little corner of the world, there are a lot of potatoes grown. In modern, large-scale farming, the tractors that harvest potatoes miss quite a few potatoes. Some farmers call up friends and family and tell them "I'm harvesting tomorrow, see you there." Then those friends and family call *their* friends and family and the result is a field full of fun. Adults gleaning potatoes for the winter and kids meeting new kids and playing.
Or gathering potatoes. I make my kids work. Doesn't she look thrilled about working?

She was actually a stellar little helper. She loved filling up the bags.



Her sister liked the novelty of it for - oh, about as long as it was a novelty. Almost a full minute. She liked the strange shaped potatoes that you don't find in stores.



Then she got bored and grabbed my camera, so you get a shot of me for once. Her pictures (and commentary) will be up on my other blog in a few days. I'll link there when she's done. My current header is a picture she took that day.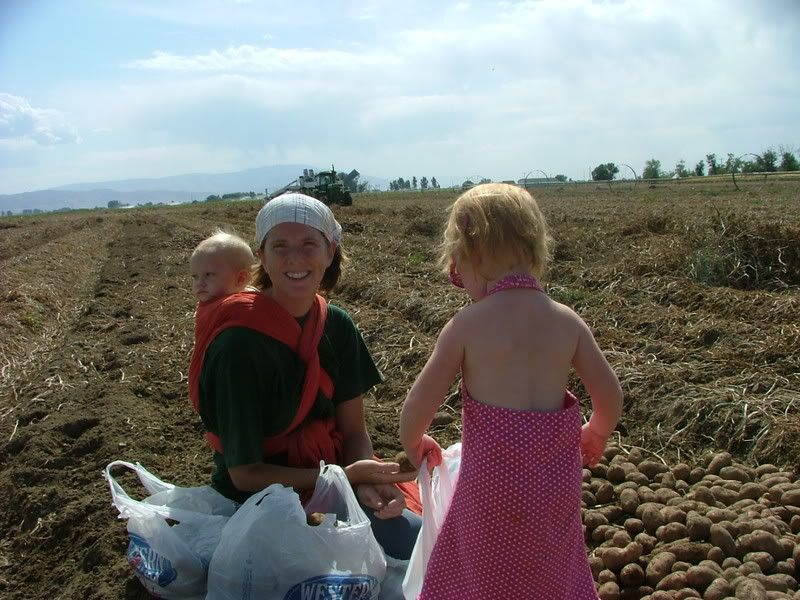 We got a lot of potatoes - enough to last the winter and spring (I didn't even have to buy any, like I'd worried about when I was digging potatoes for Hannah all summer) - but when my husband came home, he wanted to go back to the field and get enough for his parents and some of his siblings. I also got enough for my sister.

That evening, our friends showed up about the same time we did and the girls went running over to say hi. They helped them pick potatoes for about ten minutes and then came back. Don handed Hannah a heart shaped potato and said "Will you be my valentine?" He said she thought about it for a second and then said "I better not. I kind of love my mother."


Usually, gleaning is done by following behind the tractor and picking up potatoes that may have been brought to the surface but weren't picked up or shuffling your feet through the soil to pull up any that weren't brought all the way to the surface. It's back breaking work made worth it by the community spirit and the free potatoes. Not that potatoes are that expensive here.
This field, however, was wonderful to glean in. It's a test field - the farmer was testing yields of a new type of potato for a university. This meant that the tractor was manned by men who took one box of potatoes at a set rate and dumped the rest of the potatoes that had been dug into nice, neat piles. It was just a matter of sitting by a pile and pulling out the potatoes you wanted. Big baking potatoes, tiny potatoes, funny shaped potatoes for the girls.

Gleaning is a problem for some farmers for a couple of reasons. Some farmers think that if they let people glean in their fields, that reduces demand for potatoes in the store, so they're taking money out of their own pockets by letting people take them. For other farmers, they have problems with uninvited gleaning - people who stop their car on the side of the road and glean out of the fields without asking. So these farmers, once they're done digging, disk around the edges of their fields.
Something I don't understand - some farmers call up the food banks and homeless shelters and invite them to come glean. They've tried this in the past and the people who go to the food shelters won't glean, the reason most given is that it's "humiliating". Interesting way of looking at it.