This spring I emailed my dad
this link
and said "I want to build one of these this spring. Wouldn't that be fun for the girls?"
The next time he came to visit he had the wood, the paint, and the string. He got my daughter busy helping him and by the end of his visit we had a teepee set up and staked down (Have I mentioned the wind here? It's strong.).
Here they are priming the wood.
Then painting the next morning.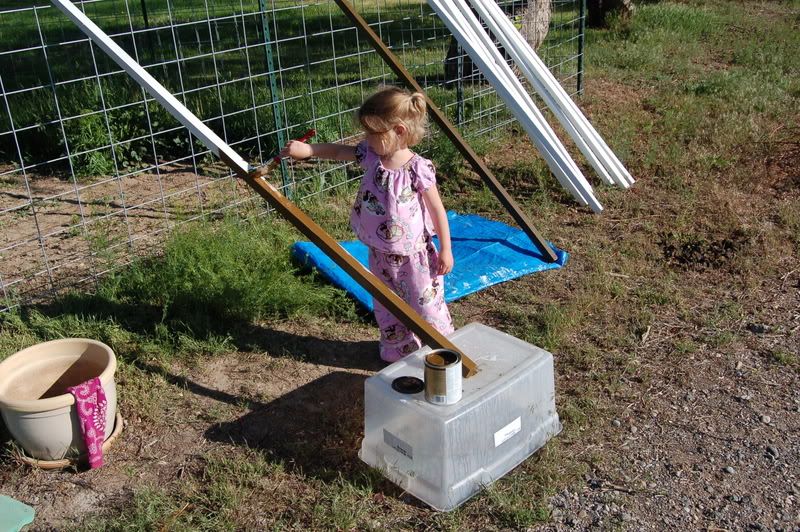 I had to include two pictures of her painting in her pajamas. She's that cute.
Then we lashed it together.
I always seem to have a lot of help.
Not that I'm complaining.
Grayson didn't help so much as supervise.
Then we stood it up and tried to spread the poles out.
Then we laid it down, re-lashed it a bit looser and tried to set it up again. Then re-lashed it looser. Then we finally were able to get it to stand correctly.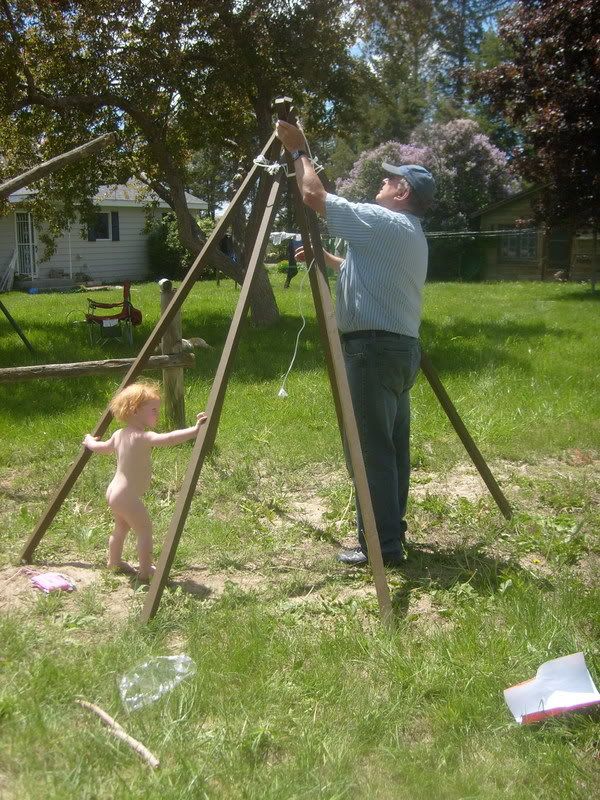 Ignore the undressed child above. She was working hard at keeping those poles apart.
Hey, at least she's not dancing on the pole.
Oh dear.
Here's the finished teepee, staked in. We stuck it near the old grape trellis on a patch of dirt that wasn't growing grass. My husband didn't want it anywhere where it would kill part of the lawn.
It's supposed to end up looking like this:

Here it is last week. It's a bit more full this week, but it still looks nothing like the picture above. That might have something to do with it being placed on a patch of dirt that wasn't growing grass.
Maybe less intensively planted seeds than the picture, very probably less fertilizer, but similar beans.
These are Scarlet Emperor...
and Painted Lady beans.
I could have planted one of several different types of vining plants on this teepee, but I wanted it to be a food plant that the girls could snack on. I didn't account for the fact that, in a child's mind, pretty flowers *right now* are more important than beans to eat later on. Very probably, the only beans that will grow on this teepee will be up higher than they can reach.
But they *are* pretty flowers.
Next year I'll use the same types of beans interspersed with a boring (read: doesn't have pink flowers) variety, plant them a bit more intensively and a bit earlier, and feed them more than I did this year. These beans have done well with what they've been given.