For health reasons
, raw milk is the ideal for me.
For political reasons
, raw milk is
impossible for me to buy here in Idaho
, and next to impossible to barter for. Some of our close friends are organic dairy farmers that run a clean barn, but due to liability issues, they can't sell to us or barter with us for milk. This situation, knowing what I wanted but being unable to buy it, led me to wanting to own my own milk-producing animal. Enter a milk cow. No, scratch that. Too expensive. Enter the poor man's cow. A goat. A
LaMancha
goat with delicious milk.
When I got Tamari, I went with recommendations for which breed of goat had the best tasting milk. LaManchas were always in the top two breeds suggested, usually number one. I found a 'local' (3 hours north) breeder who had a name for smooth tasting milk and bought my first 'real' milk goat. (I'd bought some 'cute' goats from the local auction on a whim and had milked them. That milk was *foul*. Those goats later, but before I got my LaManchas, got infected with a contagious disease by another auction goat and had to be put down. I don't buy from auctions anymore.) Tamari lived up to her breed's reputation - fantastic milk.
I milked all summer and let her dry off in the fall. After a long winter with no raw milk, we're back in milk. I milked out Physion and Ariel today. Both are first fresheners and I was nervous about the process after Celtic's shenanigans. One big difference is that these two seem to be good mothers. They let their kids nurse, after all.
I brought Physion in first, got her on the stand, gave her some grain to keep her patient, and washed her udder. She moved around nervously and then settled down. The cats got the first few squirts. Physion flinched a bit but then went back to the grain. I milked her almost all the way out and she never needed the hobbles. She never kicked, sat or laid down. She gave a bit over a pound of milk. Her teats face a bit forward on her udder and are smaller than I'd like - it tired me out faster to milk her than it has to milk Tamari (with longer teats) in the past.
I brought Ariel in and started the routine again. The grain wasn't such a distraction for her and I had to use the hobbles. She hopped around quite a bit and yelled the entire time for her babies. Ainsley can't stand the sound of yelling goats, babies or adults, and was in tears. I didn't milk Ariel out as much as Physion and got about a pound of milk. Her teats are bigger and more centered than Physions making milking less taxing.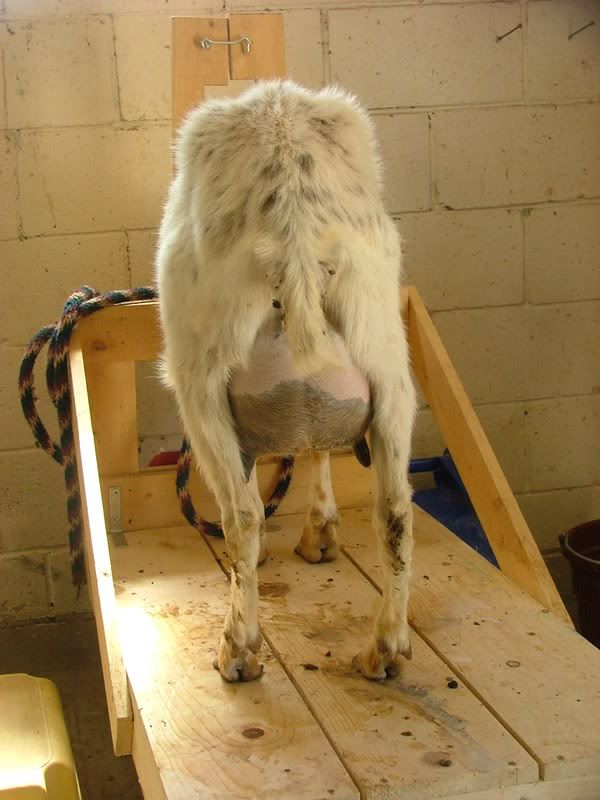 I kept the milk from both separated, and will do that for the next week or so to test the flavor from each goat. If one has an off flavor, I'll keep their milk separated, using the good stuff for drinking and cheese and the 'goaty' stuff for soap. I can't wait until I start milking Tamari again. She had the best tasting milk. If you didn't tell people it was goat milk, they didn't know. They could tell it was raw, but not that it wasn't cow's milk.
So for the next five or six months at least I'll have raw milk. A milk cow (and possibly one milking sheep, for the cheese, natch) is in my future, but for now, my LaManchas will do. (And I now think goats with ears look funny.)
Resources:
All things goaty - fabulous resource:
FiasCo Farm
What to do with the milk (includes proper milk handling):
Fankhauser's Cheese Page
Campaign for Real Milk
Book:
The Untold Story of Milk
by Ron Schmid