Last Sunday morning, Hannah and I started the first plants on my seed-starting set-up.
First we mixed up the soil. My husband had forgotten to bring home some aged compost, so we mixed potting soil and perlite 3-1. That was fun for Hannah and Ainsley enjoyed playing in it also. Even mixing it on a tablecloth, my husband was having a hard time with the potential mess. And we haven't even gotten the poultry yet - I wonder if he'll survive me.
For the onions and leeks, we filled the trays with the soil mixture and planted directly in that.
For the cabbages and broccoli we filled my newspaper cups with some spaghnum moss on the bottom and then the soil mixture. I'm trying out a spring planting of cabbages and broccoli. I'll do a planting for a fall crop also. I enjoyed making saurkraut last year and I'm really looking forward to making it with homegrown cabbage this year.
I brought in all of the lights and Hannah dusted them off for me. (Then she dusted off everything else in the house that she thought needed dusting, including a very annoyed little sister.)
This is what it looked like when we got done. The blanket was to stop a draft coming from our fireplace fan. The trays are on a heating mat that I have to keep turning on and off since it heats the trays up about ten degrees too hot if left on.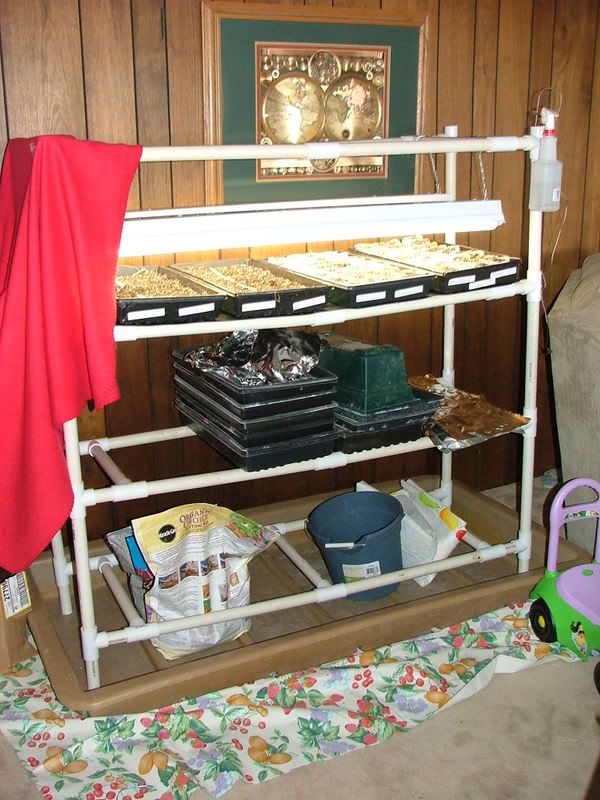 This past week we added lights to the second shelf and moved down the sprouted plants. On the top shelf now is a tray of cauliflower and some of Hannah's Purple Coneflower plants.
I don't have anything scheduled to start this week, so we'll probably start another tray with more of Hannah's flowers in it. She's excited about her own garden, so I want to keep that going.