The first year we were here, she had babies who hung out in the trees around the house. They were very talkative and liked to be where they could watch us. I've never been able to get a good picture of the momma owl (and I'd love to - she is a *huge* owl), but I got some good ones of the babies.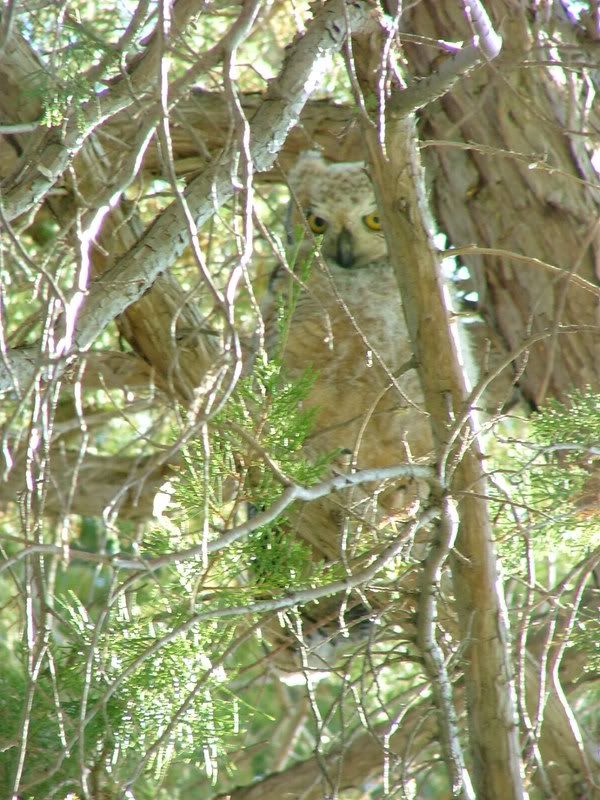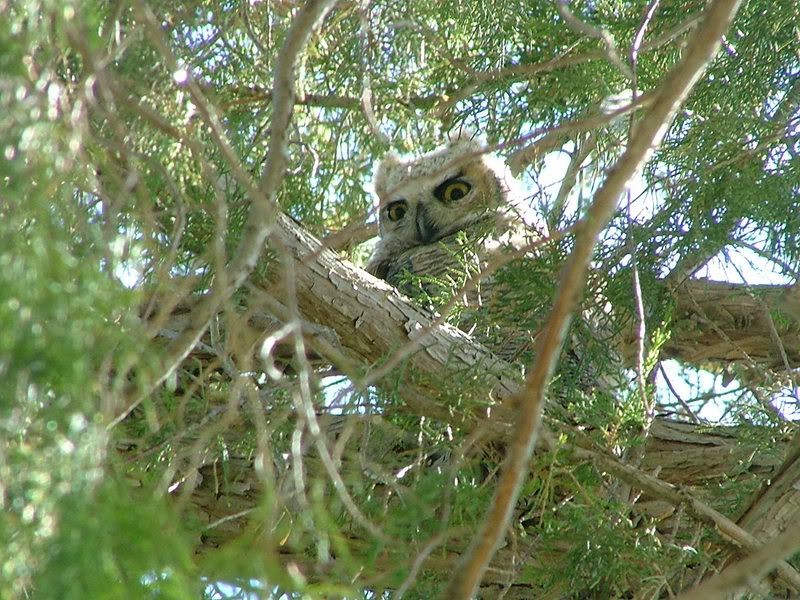 The momma did not have babies last year, so I'm wondering if she will this year. She's been quiet for a few months - I don't know if she was gone or just uncharacteristically quiet.
Every evening now we can hear her calling and if she starts hunting before dark, we get to see her hunt. Between our three fantastic barn cats and our owl we don't have a mouse problem here anymore. We had quite a few mice when we first moved here.
It's because of this owl, the local hawk population, various feral cats, and rumours of skunks and weasels in our area that we cannot have our chickens be free-ranging. Even pens pose a problem if you're not careful. One of my friends here told me a story about a night that she was trying to get her chickens to go in the coop for the night. Strangely, they refused to go in. She finally lost her temper and started picking them up and pushing them in. She locked the coop for the night and went in the house. The next morning she went to let them out and the place stunk like a skunk. She was glad she'd gone to the work to put them away since it was obvious a skunk had been hanging around and would have gotten a few of them if she hadn't put them up. She opened the door to let the chickens out and a skunk ran out. They lost all of their chickens - the ones the skunk didn't kill outright had to be put down because of injuries.
I'd love to have our chickens be free-ranging if it were possible. We have a horridly large earwig population here and chickens love earwigs. But my owl loves chickens....