I'm supposed to be limiting myself to two new species of animals a year. Apparently, turkeys and chickens classify as two different species. I was trying to convince my husband that they were really just one - poultry - but he wouldn't go for it. Damn.
There are two more I would like to start with this year. A breed of duck and a breed of pig.
The duck is for purely practical reasons. It's a
Muscovy
duck, known for being prolific fly eaters. I don't know if they eat knats, which would be even more useful than fly eating around here. Dairies and stables are starting to use these as fly control now, and it seems a wonderful, organic option to me - the fly jugs we use now are barely effective and they reek of the chemicals used in them (even though the company who makes the fly poison insists that it is safe for you to dump the flies drowned in the chemicals in your compost pile - just nasty). Another benefit to these ducks is that they do not swim, so we would not need to provide a pond, and they are quieter ducks, hissing, not quacking. These are not endangered in any way, but they look very useful, so I'm all for it.
I can only purchase Muscovy duck *eggs* from the McMurray hatchery and I have no reliable way of hatching out the eggs. A place like
this
may be my only option if I want some of these ducks.
This is one picture of muscovies. From what I can find out online, they can be quite different looking, some being striking, others being drab gray and brown.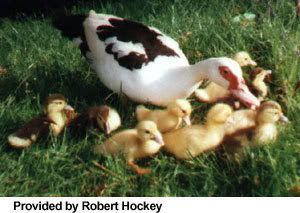 The pig that I'd like to start breeding is a Tamworth, but my husband wants to breed Herefords. Ideally, he'd like to breed none at all - who wants to keep a boar on their property? - but when I showed him the Hereford, he was impressed. I'd like to get one baby sow and one baby boar this spring to have ready to go next year, but it looks like I'll have to start with the babies next year. Even if marital harmony didn't require it, finances would.
Tamworths
are originally from Ireland and are nicknamed the "bacon hogs". Two counts for them right there. I've lived in Ireland and we're a bacon family. My three year old wants to turn every animal we eat into bacon - elk, moose, chicken, beef, turkey - it all needs to be bacon. These pigs are known for being excellent foragers and mothers, both necessities for "pasture pigs".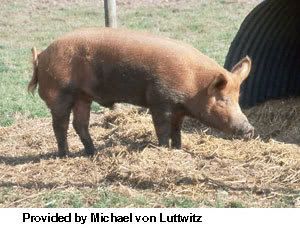 Like I said, Tamworths are my choice, but my husband wants a
Hereford
herd, and when you add up the pros and cons, he may be right. These are very gentle animals (good for a young family), do fine under pasture conditions (though not as aggressive about foraging as a Tamworth), would probably be a big 4-H hit around here, and are excellent mothers. And they really are beautiful for hogs.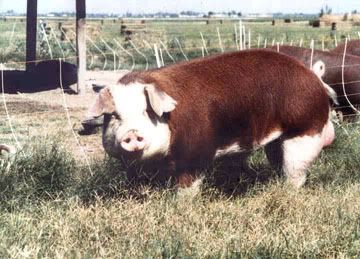 The
Red Wattle
is a hog that I would *really* like to breed, but we need more acreage. Look at the SIZE of these suckers. They can grow up to 1200 pounds and be eight feet long, still smaller than their ancestors. A very, very few breeders are trying to bring this animal back to its original size and reputation for meat quality. They are said to be very gentle animals (a necessity for the size, I'd think - much like draft horses) and be good mothers and foragers. I would love to get involved in helping this breed limp along awhile longer once we have more land.